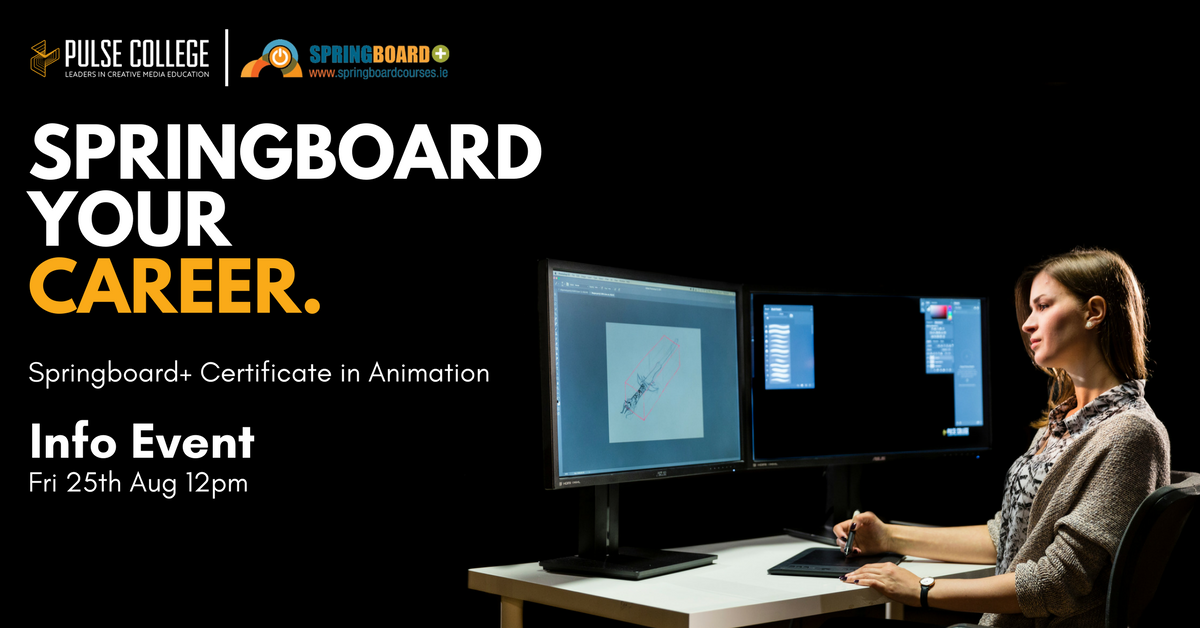 Springboard Your Career in Animation
Pulse College is delighted to announce a FREE Springboard+ Level 6 1-Year Part-Time Certificate in Animation, available to homemakers, jobseekers or those formerly self-employed. The Springboard+ funding is an initiative to help unemployed people to gain qualifications and to up-skill.
Designed in collaboration with industry partners, this programme is for learners who wish to develop specific knowledge, skills and competence for the Animation Industry. It is developed and taught by practicing industry professionals to ensure that participants receive the very highest levels of training. This course covers the full range of topics from preproduction, production, and postproduction in 2D and 3D animation, as well as the theory behind animation.
To learn all about the programme, join Pulse College for an INFO EVENT at our Animation Campus on Friday 25th August 12pm. Tour the campus, meet the lectures and gain an insight into what the course has to offer with a live demo and Q&A session.
LOCATION:
Pulse College,
Market Studios,
Halston Street,
Dublin 7
To register your place at the Info Event, simply contact us via email by clicking here, or call us on 01-478 4045.
APPLY FOR THE PROGRAMME
The programme is running from 18th September 2017 and will be limited to 25 places.
We are currently accepting applicants through the Springboard+ Application Form.
Closing date for applications is 11th September
To apply for the programme now, please visit the programme page on the Springboard website by clicking here, create your profile and submit your application. Springboard then share your application with our admissions team, who will contact you back to organise an interview.
[openday]
FOLLOW US