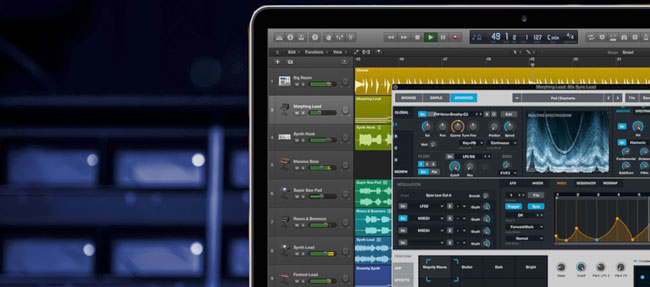 Do you take music production seriously?  Are there times when you wish you could use better tools to end up with a more professional sounding track or one with an effect you just couldn't create with your current skills or set-up?
If so, consider this course – Music Production with Apple Logic Pro X.
When you listen to any modern song, regardless of the genre – think hip hop, pop, dance, punk etc. –  there's a good chance it was created & produced in Logic Pro X.
It's the definitive software for modern music production with being used for so many jobs in music.  But more importantly for you…it's a passport to creating top quality tunes that could rival even the biggest names in music.
You don't need reserved access to a high tech studio. You don't need to be best friends with a music legend. All you need is a competent knowledge and understanding of Logic Pro X to get started.
 Why Apple Logic Pro X makes your life so much easier…
Easy to use….once mastered. Hats off to Apple on this one. It's meticulous design makes the UX so much more smooth & friendly than earlier versions and competitor tools.
Professional Results. As a Digital Audio Workstation (DAW) and MIDI sequencer software application – it guarantees quality from first note to final master.
A vast array of tools. Whatever rough idea you have in your head, you can make it a reality through the software's powerful arsenal of music tools.
Once you're trained and with a bit of experience…you can quickly produce a beat.
Record MIDI …Virtual Drum Tracks…Flex Pitch…so many tools that create the quality of sound that you're looking for.
Obviously, it's a great development in music technology…but it is a complex tool with many capabilities and nuances. To help you get up to speed, we have developed a tailored course…
Introducing Music Production with Apple Logic Pro X
The course runs over 6 weeks, 1 evening a week… the Music Production with Apple Logic Pro X course helps you master the skills you need to develop to take your productions to the next level. With a dedicated team from Windmill lane Recording studios, you will be well equipped to explore the nuances of the platform.
Some of what you will do
Create beats and slice rhythms using Apple loops, Drum machine Designer, Ultrabeat
Learn how to create music and sound for movies
Learn how to edit MIDI and audio.
You'll learn how to record instruments and vocals.
Learn the basics of music composition: chords, harmony and melodies.
Sit the Apple Pro Logic official exam – if you want. This is an option at the end of the course.
The best music producers in the world are using Logic Pro X to perfect their craft… you can too!
For more details on the course, see here or get in contact with us.
[openday]