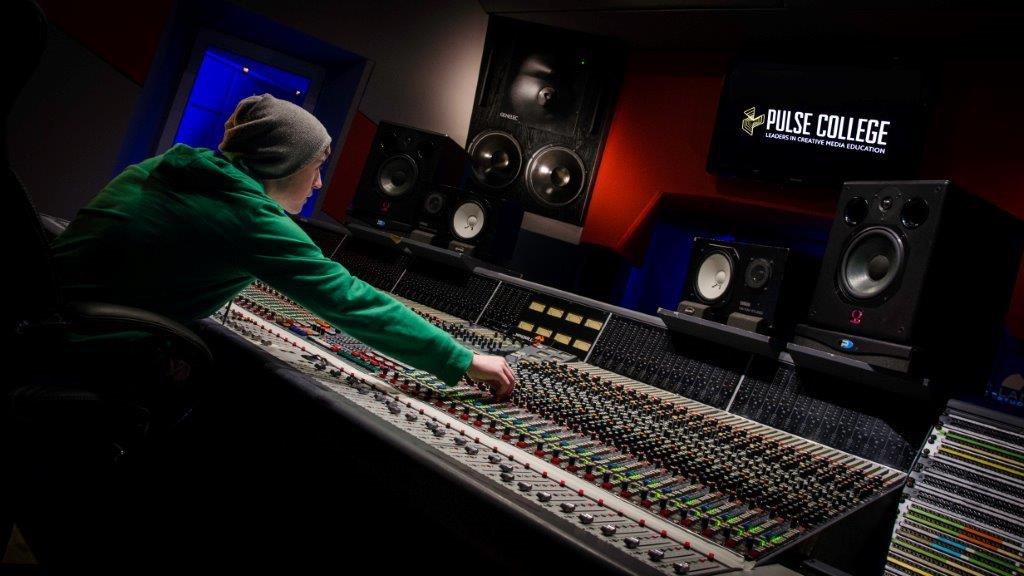 Have you ever considered a career in music production? Do you often hear a song and think you could add some slick embellishment to give it added impact? If so, you may want to look into professional music production courses. Our B.A. (Hons) Programme in Music Production (CAO Code GC 455) aims to equip students with the most in-demand skills in the music industry right now.
Come to our open day and find out how we could help you to achieve your goal of sitting in the producer's chair. Of course, it takes a certain amount of initiative on your part as well but to help you focus on some of the important aspects of getting a foothold in the industry, we've listed a few pointers below for you to bear in mind at the outset of your career…
Learn the craft
It's crucial to get a solid grounding in song-craft before entering the studio; besides giving a producer the ability to arrange and orchestrate with ease, it also allows him/her to communicate their ideas more clearly. You don't have to be a songwriter to learn how your favourite songs are put together. Just listen to them: pick them apart sonically, and try to figure out why they work. Music production courses will guide you through this process and learning an instrument can really help, as it allows you to play along and break a song down into its constituent parts. Ideally, you should try to master one or all of the following:
Piano/keyboard. Probably the most versatile instrument out there, the keyboard is an invaluable tool for bashing out melodies and learning the basics of music theory
Guitar. Another instrument that can be applied to almost any genre of music, its perfect for adding texture and depth to a song's sound.
Bass and drums. As rhythm is at the heart of all music, getting a handle on the rhythm section will serve as a great foundation for your work.
Be a Pro
Though there's an intimidating number of different software packages used in the industry, it's safe to say that there's one indispensable program for any budding producer: Avid Pro Tools. A Digital Audio Workstation (DAW) that has the same functionality as a multi-track recorder, its beauty lies in its flexibility:
It's used in audio post-production, mixing, scoring and many other applications.
It's a comprehensive "in-the-box" solution, allowing you to record, edit and mix, all in the same program.
Because it's used in almost every recording studio worth its salt, it allows work to be easily transferred from place to place. This will become even more convenient with the arrival of Avid Everywhere this year, which will allow for remote collaboration using cloud technology.
Ultimately, mastering Pro Tools is essential to forge a career in the industry and it will open opportunities in the business that will simply not be available to you without Pro Tools skills. Few record companies would consider working with a producer who was not familiar with this software and formal music production courses focus on teaching these skills.
Get yourself known
It's often said that the music industry is a people business, and this applies in particular to the role of a producer. Putting a load of creative temperaments within the claustrophobic confines of a recording studio can be a recipe for frayed tempers. Often it's the job of the producer to keep everything in check, a formidable task that takes a certain type of personality. That's why personal referrals are the currency on which producers trade, and in order to get them you'll need to build relationships with musicians and industry figures from the off.
There are plenty of ways you can do this. Send out speculative applications to studios and keep knocking down doors. Offer to publicise bands or to lend a hand at their gigs. And, above all, don't hesitate to take any work experience or networking opportunity that comes your way, even if it seems un-interesting or doesn't pay at the start. A great example is Nigel Godrich, who started out as an assistant engineer on Radiohead's My Iron Lung EP, only to go on to produce their iconic follow-up release OK Computer. First get yourself out there: network, prove you're worth; be dependable, creative, technically competent and professional – even if you don't feel you've got there yet; practical experience will grow your skills and you'll only get this through contacts or by being in the right place at the right time.
Music Production Courses
If you're interested in finding out more about the BA (Hons) in Music Production, simply get in contact with us or come along to our next Open Day, where you will get the chance to tour the world-famous studios, meet with our industry-based tutors and speak with current students! – See more at: https://www.pulsecollege.com/why-study-music-production/
[openday]
Follow Us