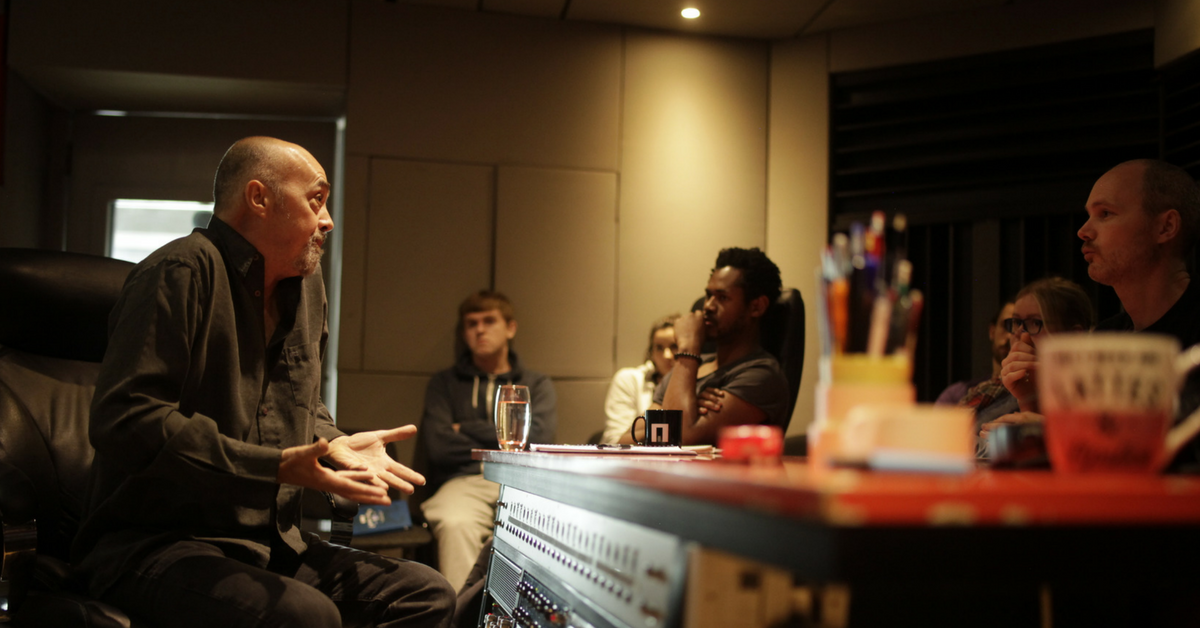 On 29th May, renowned multi-platinum selling producer/mixer, Steve Osborne, visited Pulse College and Windmill Lane Recording Studios to deliver a Masterclass to our Music Production and Music Technology Degree and Diploma students. Steve has maintained a prolific output throughout his vast, genre-spanning career. Having started off in the 90's dance scene as part of one of the most legendary remix teams with Paul Oakenfold, working with acts such as Massive Attack and The Happy Mondays, Steve then redirected to the recording studio, recording and producing for acts such as Elbow, Doves, Suede, U2, Placebo, KT Tunstall, PJ Harvey and, most recently, Gregory Porter.
Steve took our students initially through the process to produce and mix a track for mainstream daytime Radio. Steve was tasked by Decca Records A&R department to take the jazz recording 'Hey Laura' by Gregory Porter and re-produce and remix the track with the aim to get the track on the "A" playlist for BBC Radio 2 national radio. The stems given to Steve by the record label were analysed and discussed with the students, while Steve demonstrated his editing techniques in Protools (based Beat Detective and Tempo analysis) of how to take a free-time live recording and hard quantise the tracks to the Protools grid in preparation for his production and remix.

Later using Cockos Reaper (Steve's DAW of choice for mixing) to make the song as contemporary and as radio friendly as possible, he demonstrated how by adding drum loops, using samples to reinforce kicks and snares, side chaining sawtooth synth patches and some additional overdubs on guitar and trombone all played by himself, the whole project and process developed. The dynamic between the A&R department at the label, the artist, the Radio pluggers, and Steve's remix approach were all part of the discussion.
After lunch, Steve did some mix and production analysis of the 2nd and 3rd year students client assignment work in the control room of Studio One Windmill Lane Recording Studios. They discussed how as a music producer you often have to manage issues with bands and artists, record labels and managers, as clients often had different visions and aspirations for the material. Steve made some suggestions about musical arrangement of student tracks while sharing some tips and tricks about E.Q., compression, reverb and delays in mixes. He discussed his approach to the philosophy and psychology of mixing and production and shared some fascinating stories about producing U2 in Windmill Lane, recording The Happy Mondays in L.A. and remixing acts such as Radiohead and PJ Harvey.

Isabel Molony / BA (Hons) Music Production Student
"Having Steve come in to talk with us was a great experience. Seeing how he approached the projects he was working on was really interesting, and it was great to get individual feedback from him on my own work. Hearing his feedback on my classmates work was great too because it gave me ideas for use in the future. Overall it was an incredibly useful experience and I'm really glad that the college were able to have him come in to talk to us."
Phillip Brady / Diploma in Audio & Music Technology
"It was a fascinating insight into the mindset and creative processes involved in taking a project from a basic starting point and delivering it as a finished product."
MUSIC PRODUCTION & TECHNOLOGY AT PULSE COLLEGE
For more information on our renowned 3-Year Degree program in Music Production visit the course page by clicking here.
For more information on our new 3-Year Degree program in Music Technology visit the course page by clicking here.
[openday]
FOLLOW US