New Head of Programme for the BA (Hons.) in Audio & Music Technology
The Audio and Music Technology Course is one of our most popular courses and we get a great mix of people on it every year including musicians, songwriters, sound engineers, DJ's & people who love to experiment with music tech & who want to learn how to record musicians.
If you're considering this course, let's learn a little more about our new Course Director Eoin Smith.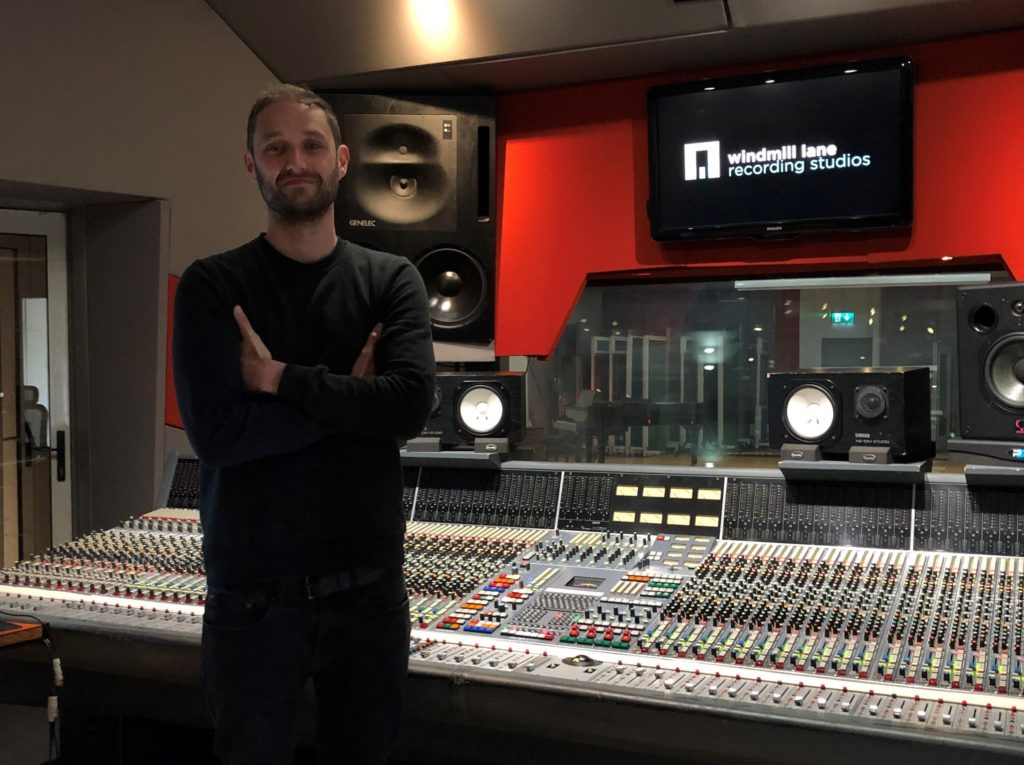 So Eoin tell us about yourself and how you got into the music & audio scene?
I started with computer music tools when I was quite young – attacking records and using the computer to actually make music. So from a really early age I knew that's the area I wanted to work in, so by the time I left school, I immediately began studying Music technology in college.
From that point, I remained on the education side of things for a long period of time, eventually earning a PhD from Maynooth University in 2012.
While I was in college, I got jobs in the industry as well. While I've always been interested in the computer side of things, I've worked in different jobs such as live sound, with PA companies and doing post production work.
After finishing the PhD, I worked in a few different teaching roles across Dublin but the majority of my work was outside of the Music Tech domain.
You also worked in a pressing plant producing Vinyl Records?
Yes, I worked in Dublin Vinyl. Working in vinyl manufacturing is very intense and it is a very niche skillset and somewhat of a dark art– you need to get in and get your hands dirty with it which I always enjoy. In a strange way, working in pressing plants has given me a greater appreciation for the recording process and how the audio is treated before it gets to a point where someone wants to press it to vinyl. Coming to Pulse from that perspective allows me to build on that and will hopefully allow me to contribute in a different way.
Working with some of the lecturers at Pulse, given their own histories and experiences -the people they've worked with as well as some amazing students –I t's a really dynamic environment to be in and I'm very happy to be involved.
What can students expect from the course?
The primary goal of the BA in Audio & Music Technology is to equip students for positions in the industry.  All the modules are geared around teaching the students practical skills that will help them get a role in the industry afterwards.
We have modules like Sound Reinforcement, Sound Design and Creative Processing, Applications Technology, Mixing and Mastering, Recording Studio Principles, Professional Practice and Music for Producers. Aside from studying these modules, students have the access to the Windmill Lane studios and can avail of studio time during tutorials and their own booking time. That pretty much covers the full gamut in terms of audio and music tech skills.
These modules are delivered by industry leading people so they're essentially people who are highly experienced in a commercial setting. I think that's interesting in itself because all the information that they are giving out is from the real world. It's from the mistakes they've made…it's from their experience over decades – it's contemporary, as opposed to the rigid structures and teaching styles.
Within the industry itself, technology changes every couple of weeks… so it's definitely the case at Pulse that the lecturers are practitioners who are themselves learning the technology for their own purposes and then coming back into the College and relaying their experience to the students.
The students are in a very special place because they are getting this up-to-date, real-world experience from our lecturers.
It's a 3 year course?
Yes – this is the first year of the 3-year degree course format. The third year is based on compounding the learnings of previous modules with the addition of some newer ones.
When students come out of the third year, they should have a very developed knowledge base with a clearer picture of what aspect of the industry they want to go into. Or they may want to study further and stay in academia. It gives students a lot more options..
On that topic, what about Career choices?
The main thing about the course is that its designed to equip people to find out what part of the industry they want to work in. There is a huge variety of career options such as Postproduction, Live Sound, Studio Recording or the more creative areas such as Sound Design and Creative Processing -which can lead to a multitude of roles in film or tv. The course gives you the necessary tools to look for work in the industry and it allows you to pick those roles that suit your talents and interests.
Any tips for graduates finding a job?
Over the course of the 3 years, we'll get an idea of what the students want to do, and we'll want to help them out as much as possible. It's a lot easier when we have industry figures teaching in the college – and so it's a lot easier to get access to certain roles. Often certain positions might come up through word of mouth as opposed to scrolling online looking for vacancies or project work. You may be in the corridor and someone might just say we are looking for a person for this role.
Just being in the college and being present here, gives the student a stronger position to find work in industry. But look I don't want to make it sound too easy; it takes a lot of hard work and commitment….
How would you describe the music & audio industry in Ireland?
I believe it is in a good place. Musically, there is a such a diverse and interesting range of artists in Ireland now and more importantly these artists can share and collaborate their ideas more freely. Music technology has empowered artists to produce and manage their own content and I feel this has created a stronger impetus on colleges to maintain a modern curriculum. Students are coming to us with a much stronger foundation in music tech and it is our responsibility to provide courses which will challenge students and build on these foundations. Being a smaller, more industry focused college, we have the freedom and experience to create more bespoke courses, which fit the needs of this changing demographic.
To find out more about the BA in Audio and Music Technology or if you have further questions then please contact us.
[openday]