Post production is an integral part of the filming process. It's the vital part that comes after production when filming is finished up – although to speed up the process – some of it can be done simultaneously. Yet for many outside the industry (and for some in it – depending on your role) it's widely misunderstood. There are a lot of variables that go into this process. Before we delve into the ins and outs of post-production – let's define exactly what we are talking about.
What does Post Production mean?
Essentially, post production is the process that begins after filming is finished. It involves all the editing of the visual and audio materials. It is a very collaborative process and depending on the size of the project, it can take quite a while. It's often the part that we take for granted and people don't fully appreciate how much work can be involved.
Post Production is often considered the third and final part of the video making process.
The three phases are as follows:
Pre production
Production
Post Production
"Writing is fantasizing about what your film will be like. Shooting is reality. And post-production is recovering the idea you had. "
Nicolas Winding Refn
How long does post production take?
It very much depends on the project itself and it can vary greatly.  A short video could take a week or two, a film could take a year – a Hollywood blockbuster even longer! The workflow will inevitably vary from project to project, impacting timelines but there's a clear set of activities that need to be implemented regardless of the scale of the project. Let's see what that workflow typically looks like.
So, what work exactly is done in post production?
A natural workflow has some clearly defined elements and this would be a typical example for industry pros.
Have reliable storage
Picture editing
Sound editing
Secure music
Sound mixing
Visual effects
Colour correction
Titles, credits, and graphics
Trailer
Source here.
All of the points above make sense from sound editing to visual effects right? However you might be wondering…
Why is storage important?
Can you imagine if you've gone to all the trouble to record and make the best shots you can? And you put so much thought and effort into making the script a reality. And now, out of the blue, it has all disappeared? That is why making sure the footage is saved securely is vital before going on to make video edits.  This can involve anything from a reliable hard drive to using a shared storage solution, like Cloudways.
Is Post Production just for Cinema?
No not at all! With the rise of Audio visual technologies, the corporate world has had to adapt itself in recent times. Although the Covid-19 pandemic has certainly fast-tracked the need for many businesses to get on top of film as a key tool for communications, this field is set to become more and more visible (literally!) in 2021 and beyond. With that, there are growing opportunities in Ireland; obvious examples include corporate events, corporate training videos and conferencing.
It's not just corporate either, different industries have started to use AV from fast service restaurants to Visitor Experiences like the new tours at Windmill Lane Recording Studios.
The bottom line is that computer based applications have become the industry standard throughout the audio industry. The use of audio and visual is becoming an ever more present feature of 21st century life – and with that, the demand for skilled people who can use these technologies is set to grow.
The Post Production Scene with AV in Ireland
For a long time, Ireland has been an international hub for post-production for films, TV and games – with studios such as Windmill Lane leading the way for post-production and VFX (visual effects). Our courses in this field are industry-led and designed specifically to meet the growing demand for skilled and imaginative people to manage the technologies and to create amazing content across a variety of media. Why not be part of this exciting industry – now's a great time!
Interested in a career in Post Production in an AV Industry?
Introducing Post-Production and Sound Design skills for Audio Visual Industries..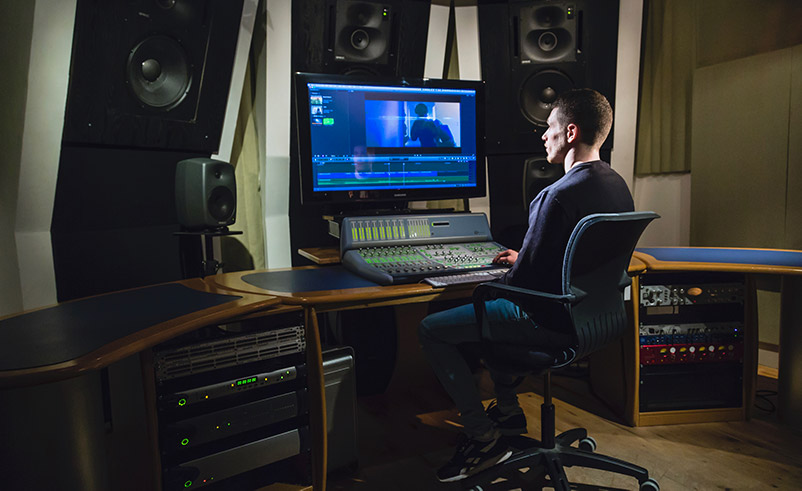 In this exciting course we cover all the essentials so you can hit the ground running. Topics include:
Avid Pro Tools 101 & 110 programmes
Audio editing and manipulation techniques for film and games
Creative sound design for film, TV and games
Foley for film, TV and Games
Using middleware for the implementation of sound in a virtual world
Plus…
The 5 main modules are:
Applications Technology
Sound Design and Foley FX
Sound Design and Creative Processing
Audio Post Production Techniques
Sound Design for Games
Understanding the nuances of different tools such as equalizers (a tool that boosts or cuts the amplitude of specific frequencies) and how they play into the bigger picture is a key component of the course. By gaining this holistic understanding of post-production you are setting yourself up in the longer term for a successful career. Full details about the course can be found here.
Final Words on Post Production
It is a demanding, meticulous and highly rewarding field with a lot of moving parts(!). And it's not just confined to film and tv, as different sectors now require post-production skills in a variety of applications and industry sectors. Whether you want to get started in the film industry or branch off in a totally different area – post production skills are vital. If you have questions about this critical phase of production or about signing up for our course, please get in contact with us.