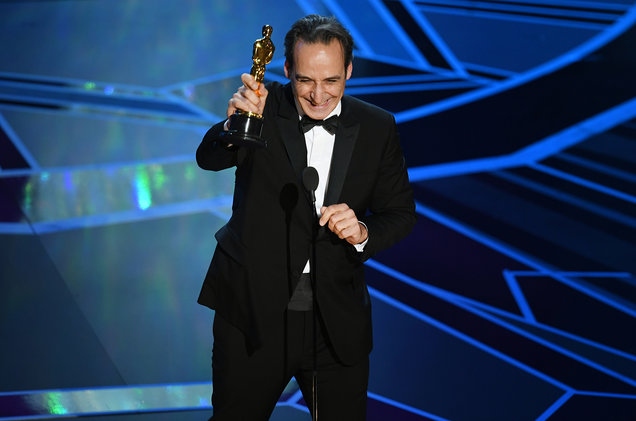 The 2018 Oscars Original Film Score category was packed with some top quality composers. There were excellent entries with Alexandre Desplat coming out on top winning the award for his sublime work on 'The Shape of Water'. The movie, directed by Guillermo del Toro, was up for a total 12 other awards on the evening. In the event, it also won del Toro an Oscar for Best Director and the production won the award for Best Production Design – not a bad night!
Desplat's score may have been so popular because it gave a voice to the films two main characters who are mute. It is a beautiful piece of music that really enhances the movie. The flute and accordion are two instruments that feature heavily in the score. There's excellent harmonies and wonderful rhythmic changes as the film progresses. If you haven't heard it – treat yourself now!
Check out the trailer…..
Who is Alexandre Desplat?
Alexandre Desplat is a French Composer who began playing the piano at the age of five, he also studied the trumpet and flute and quickly became a very talented performer and composer. Alexandre has a wide range of musical tastes spanning Jazz, Latin and African composers, as well as  his fellow French composers Ravel and Debussy.
He wanted to become a film composer early on in his career and he has now created soundtracks for over 100 films in France and in Hollywood. His first real success in Hollywood came working on the soundtrack for the 'Girl with a Pearl Earring' back in 2003. Since then he's gone on to work on some absolute blockbusters…… Hostage, the Queen, The Curious Case of Benjamin Button, Fantastic Mr. Fox, Harry Potter…..and that's only naming a few!!
This is not Alexandre's first win at the Oscars, back in 2015 he won Best Original Score for 'The Grand Budapest Hotel', directed by Wes Anderson. In 2015 year he was actually competing against himself having also been nominated for 'The Imitation Game'. That was the first time this had happened since 1977 when John Williams was up for both 'Close Encounters of the Third Kind' and 'Star Wars' , the ultimate winner.
The Shape of Water also picked up the award for Best Original Film Score at the Golden Globes so, if you're into film scoring it's definitely one worth listening carefully to!
Who else was in the Mix
There was a stellar line up of composers in the mix for Original Film Score, including absolute legend John Williams for his composition on Star Wars: The Last Jedi, Hans Zimmer for Dunkirk, Carter Burwell for Three Billboards outside Ebbing Missouri, and Radioheads Jonny Greenwood was in there for his work on Phantom Thread.
View all the Oscar Nominees
Previous Winners
2017 – La La Land – Justin Hurwitz 
2016 – The Hateful Eight – Ennio Morricone
2015 – The Grand Budapest – Alex Desplat
2014 – Gravity – Steven Price
[openday]
FOLLOW US