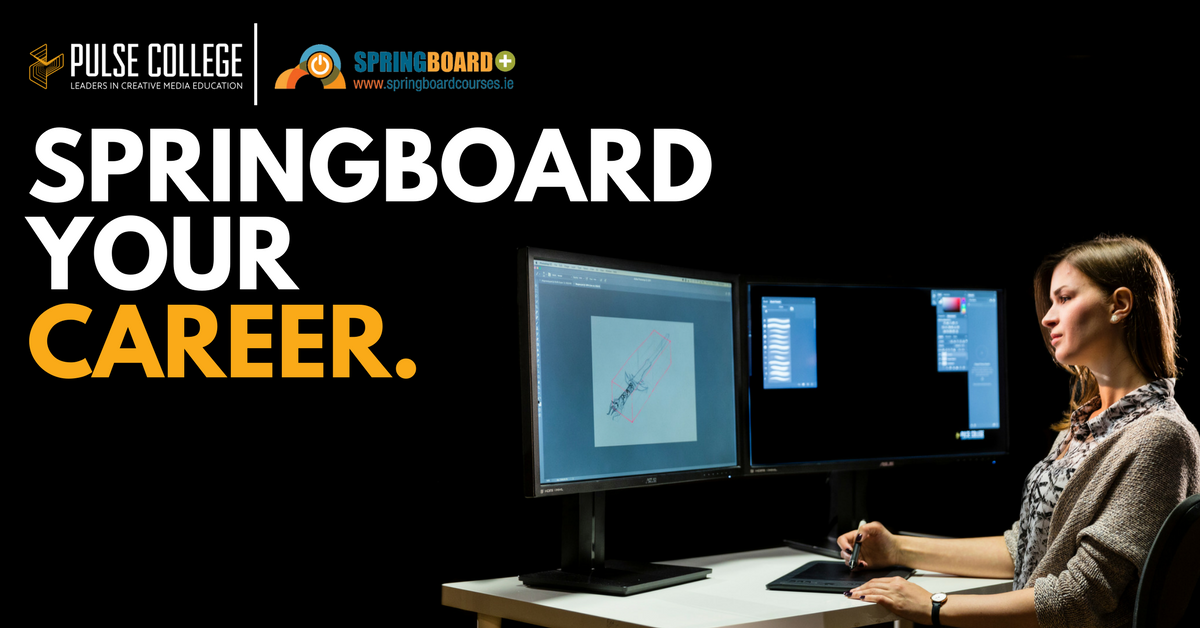 Springboard Your Career with Pulse College
Pulse College is delighted to announce that we have been awarded Springboard+ funding for the delivery of our 1-Year Part Time Level 6 Certificate in Animation. The Springboard+ funding is an initiative for unemployed people to gain qualifications and to up-skill (please read below for details on eligibility).
Designed in collaboration with industry partners, this Pulse College Springboard+ 1-Year Part-Time Certificate in Animation is for learners who wish to develop specific knowledge, skills and competence for the Animation Industry. It is developed and taught by practicing industry professionals to ensure that participants receive the very highest levels of training. This course covers the full range of topics from preproduction, production, and postproduction in 2D and 3D animation, as well as the theory behind animation.
"Those who successfully complete the course will have a strong set of core skills readying them to enter the animation workforce. This is done through practical examples and real life projects done with studio professionals, which will ultimately be displayed in their student portfolios." – John O'Brien, Senior Lecturer in Animation at Pulse College.
The programme is running from 18th September 2017 and will be limited to 25 places.
We are currently accepting applicants through the Springboard+ Application Form.
Closing date for applications is 11th September
For more information, please visit the programme page here or if you would like to speak to one our Springboard+ Admissions Team members directly you can contact us via email or call us on +353 (0)1 478 4045.
Am I Eligible?
Enrolling on a Springboard+ course for the unemployed can help you up-skill, change your career direction or pursue an area that has always been a passion! This course is available for job-seekers but regardless of how long you're out of work, you can apply (provided you meet the other minimum criteria). You just need to have been in employment previously and are actively seeking a new job.
To be applicable you must:
– Be actively seeking work
– Have been in employment previously
– Be unemployed for any length of time, however short
– Be in receipt of Dept of Social Protection payments like Jobseekers Benefit/Allowance
– Have previously been self employed
Those who participate in the Springboard+ courses will be able to retain their social welfare benefits and if they find a job, they will still be permitted and encouraged to finish their course.
How to Apply?
For more information on the applications process, check out the walk-through video below.
[openday]
FOLLOW US