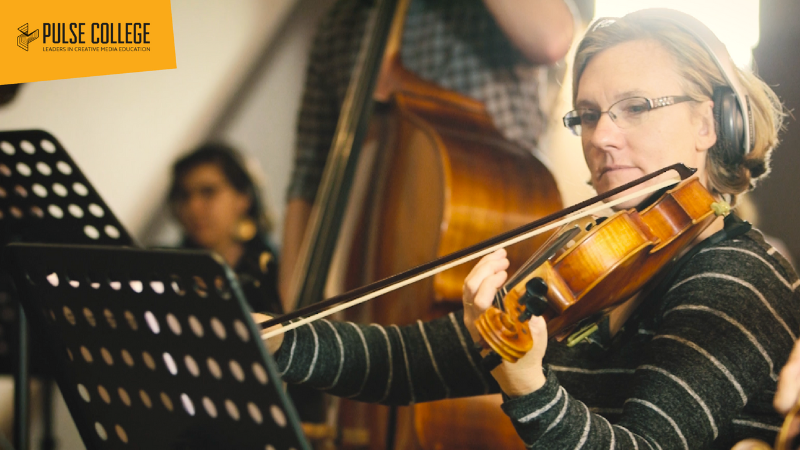 During the 1st Trimester of the MA in Scoring for Film and Visual Media program at Pulse College, our students were tasked with re-scoring a scene from a Hollywood Movie, "Killing Season", originally scored by Pulse College's Visiting Tutor Christopher Young. This is part of a module titled 'Fundamentals of Film Scoring', led by tutors Derek Gleeson, Christopher Young and Antonio Carfolla.
The 29-piece orchestra is made up of some of the best of Ireland's orchestral musicians, from The Dublin Philharmonic Orchestra, The RTE National Symphony Orchestra, The RTE Concert Orchestra, The Irish Chamber Orchestra and the Dublin freelance pool of players.
This particular session is the first recording where the students are recording, in many cases for the first time ever, composition-to-picture. It's is the culmination of a series of lectures examining all the Sync issues associated with scoring to picture.
Pulse College Film Scoring program has a unique methodology in this area in that we teach both "old school" (using calculations and timing notes) methods and modern computer methods for these scoring techniques, as there are major advantages to knowing both systems.
Check out the highlights video of the session below.
Track Title: "Ben's Survival Montage"
Conductor: Derek Gleeson
Recording Engineer: Debbie Smith
FILM SCORING COURSES AT PULSE COLLEGE
Check out the MA in Scoring for Film and Visual Media, come to our next open event or contact us now to speak to our admissions department.
[openday]
FOLLOW US