ALUMNUS INTERVIEWS
Name: Brian Sheil
Course: BA (Hons) Music Production
Year of Graduation: 2012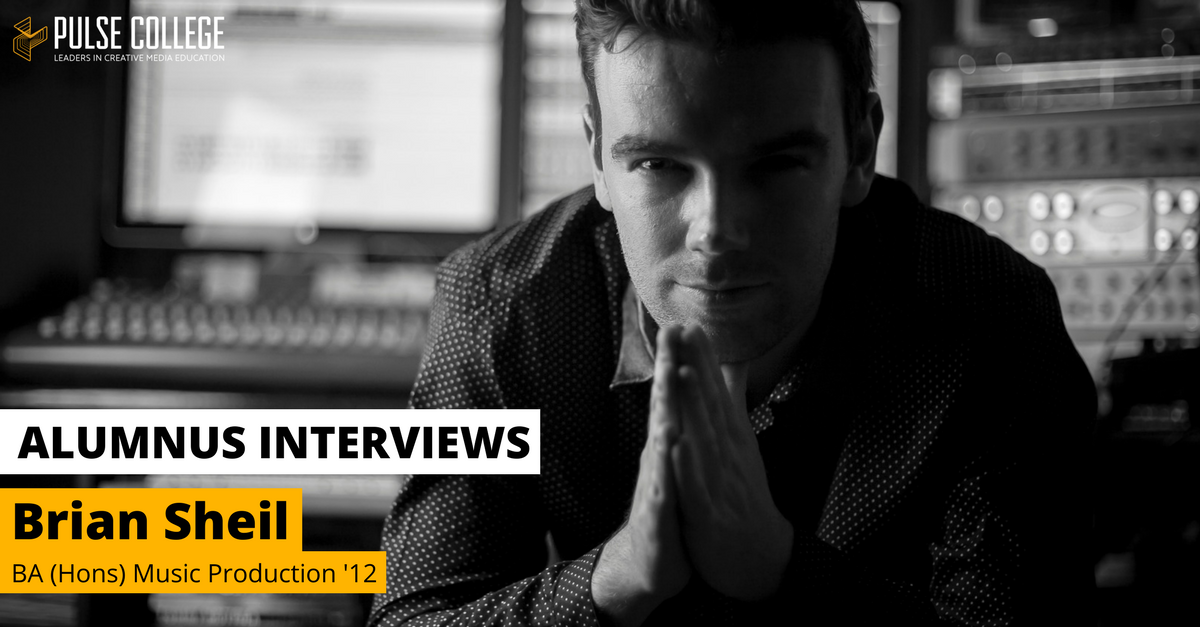 For the latest in our Alumnus Interview Series, we speak with Brian Sheil, who runs his own recording studio, Brytestar Studios, and also works at VISUAL Carlow as their in-house sound engineer and theatre show technician. Brian graduated from the Pulse College BA (Hons) Degree in Music Production with First Class Honours in 2012.
Hi Brian! First question, did you always want to work in the music production industry?
To be honest, yes, or at least something that involved the music business. I was always drawn to sound and how particular sounds were created. I still remember, even to this day, as a 7 year old coming home from basketball training, in my Mam's car, listening to a Celine Dion album called 'All The Way…A Decade of Song' with such songs on it as 'Because You Loved Me', 'All By Myself', or 'That's The Way It Is', and wondering how those exact sounds were created. I think my parents probably saw this curiosity at such a young age, and sent me for keyboard lessons with my cousin and a fantastic musical director and teacher, Dale Hennessy.
I know people will read this and think Celine Dion, 'what the hell, Brian!' but it's the truth, and to be honest I think it has served as an advantage to me, as opposed to being into 'that guitar sound, man!'. I was, and still to this day, always focused on vocals first and foremost – they're still number one for me on any record! I wasn't the 'cool' kid. (Tony Perrey, President of Pulse, will tell you all about my fascination with the 80s and 90s era.)
Why did you choose to study at Pulse College?
Originally, I was going to study with the Irish Aviation Authority and become an Air Traffic Controller, but as the years went on, and in particular during sixth year in secondary school when we had to decide what to put on the CAO form, I just went with my gut and true passion, and joined the everchanging, crazy, music business.
I chose Pulse because they offered a more practical approach to their courses, and I thought if I ever wanted a serious chance at following the footsteps of whoever I looked up to, that a practical approach was the only way forward. Obviously having a great studio with excellent, real life equipment was another selling point for me. I remember when I attended the open day, Niall McMonagle (Head of Audio and Music Technology at Pulse) spoke with such passion and enthusiasm, and when you see that, you think to yourself that this place seems like the right fit. Over the course of my four years a lot of the lectures we got were invaluable.
What kind of things did you learn at Pulse College that prepared you for the industry, and ultimately the real-world music business?
I learned the discipline of being in a studio, knowing when to be invisible, and when not to talk. How to manage a recording session is another key thing I learned, I suppose more so from watching some commercial sessions and how they operated, as opposed to being in one myself. Of course, the biggest thing was probably learning the technical side of music, how all the equipment worked. I will say, and I remember Tony Perrey telling me this one day in Studio 1 at Windmill, that the technical side is always taken as a given, and to be more focused on people, and dealing with them. I can report back now and say that was a very accurate statement, haha.
For my final year project (see video above), I created and devised a project called 'Blast From The Popular Past'. It essentially came from a conversation I had with Tony Perrey, Ken Haughton (Director of the BA (Hons) Music Production programme) and Jimmy Eadie (Guest Lecturer), when we were going back and forth during the formative assessment sessions about what I was going to do for my final year thesis. Basically I transported myself back to the 80s and produced a record as if I was back in 1987, with the limitations that presented themselves back then – I even bought Ken's DX7 MKII from him, I was so into it, haha.
I also got to interview my production idols separately for this project over Skype – 16-time Grammy winner, songwriter and producer, David Foster and 13-time Grammy winner, producer and engineer, Humberto Gatica (pictured below). They have been behind the likes of Whitney Houston, Celine Dion, Barbra Streisand and Michael Jackson, so they were the perfect people to interview for my thesis, and find out really what happened during this period. It was very hard not be just a fan while interviewing them though, haha.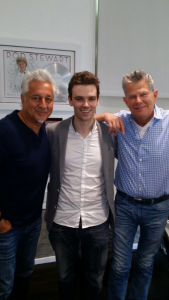 It's funny, this 'college thesis project' has taken me further than I expected. I was in Los Angeles in 2015 and I managed to be invited in on a session by Olivier (assistant) and David Foster himself to be literally a fly on the wall, and just learn. (I had previously met David & Humberto, briefly, in 2014 in LA while doing a showcase – The chances of meeting your idols at the same time in the same room, mad – Crazy the way things happen) What an experience!
Surprisingly, the same happened in Los Angeles (2015) a week later with Humberto Gatica. Although I didn't physically do anything in these sessions, just by watching and soaking up what was happening in front of me was amazing to experience. I can't recommend this enough as something to do if you get a chance to, or work your ass of to. I felt such a nervous energy inside of 'I still have so much to learn', while watching everything happening in front me. You fly back home thinking of that lecture you had when you're told 'Learning doesn't stop after you graduate, guys!'. Another accurate statement I gladly learned to be true.
Early into your career after graduating you were shortlisted on the nominees for International Producer of The Year & International Recording Engineer of the Year at The Music Producers Guild Awards. What did this mean for you?
It was great to get an acknowledgement from industry peers, and in particular from the Music Producers Guild, that my work was worthy of at least a consideration. I was 21 and the only Irish producer to be shortlisted on the nominations that year, so again, that was amazing. It also boosts confidence in your work, and how you go about it, so that was nice.
It's funny though, I remember meeting the Managing Director of SYCO Music (Simon Cowell's record company) in London in 2013 – he wasn't into the nominations at all, he just wanted me to walk in with hits. I suppose the lesson here is don't put too much emphasis on awards or shortlists, haha – it's still the music BUSINESS after all. I learned a lot in that meeting shall we say. That said, do I look at The Grammys every year and think that I want to win at least one? Yes I do, who doesn't, haha.
Congrats on the album you produced for Ben Troy recently getting the iTunes No. 1 Country Album spot! You have carved a niche for yourself as a producer for Country & Western acts. How did this shift come about and is it something you're passionate about doing more with?
Thanks a million! I put my absolute heart and soul into it. I had done a lot of engineering and mixing work with Derek Ryan during my studies and after, but this was my first full country album that I produced and mixed. Derek executive produced the album, and came to me last year and asked would I produce & mix this new young sensation he found called, Ben Troy.
I was blown away by his voice – listen to him on Spotify, he's only 18 – a producers dream! I've always loved country music believe it or not – more so the American or the well produced Irish stuff. I had a gut feeling when still studying at Pulse that this genre was going to take off in Ireland within the next few years, and I suppose I have been lucky it has.
It was also in the back of my mind that after I graduated that I needed to become a businessman essentially, and take a commercial approach in order to pay off for my studio. I talked about my mother's influence earlier, this was most definitely an influence of my Dad having a successful background in business.
You're currently based out of your own studio, Brytestar Studios, in Carlow. Talk to us about the studio and the set up you have?
Well, my studio is essentially my playroom when I was a kid. You could say it still is my playroom, haha, just a grown up version – I am constantly in it. During college, I took out a loan for €20,000 to invest in creating a 'home' studio (I know, it sounds crazy, but this is what I wanted). I hate the term 'home studio' because I've always felt it sounds and breathed mediocrity. Anyway, I digress. I wanted to create an intimate environment for artists to come and essentially feel at home. The studio space isn't massive at all, but again, I felt it was too soon to really expand into a huge studio space, and to be honest, it doesn't add up financially, even right now. Over the course of college I slowly paid off this loan through working with artists at the studio and through VISUAL. I worked a lot during my studies.
In terms of my setup, I'm still on Pro Tools 10 and Logic X on a Mac Pro with a AVID/Digidesign 003+ interface. I have most of the modern day plugins. I also have numerous pre-amps, Avalon VT737, some of the TL Audio stuff is great too. Microphone wise I have the AKG 414, Rode K2, NTK and the NT5s. I have my trusted Yamaha MM8 keyboard that acts as my MIDI keyboard and my pride and joy, a near mint condition Yamaha DX7 MkII (It's 30 years old).
Headphone wise I use the Beyerdynamic DT770s and the Sony MDR 7506s. Centre of the studio is my Allen and Heath desk, the ZED 436. I also have the Genelec 8040 monitors (love them), my custom made audio PC for general usage, e-mails, Spotify, iTunes and whatnot, my old Sony boombox to play my mixes through, and a Macbook Pro laptop that makes me mobile. I don't have lots of equipment, but this was a conscious decision; essentially make the equipment I invested in pay off, and not to go out of business. I've had relative commercial chart success in Ireland too doing this, so I think it's paid off. For more band heavy stuff, I'd usually hire a bigger studio space, or virtually record with an engineer in the US. Of course I would love a bigger studio, more equipment, a Neve desk etc…and hopefully that will come, but to me it has to make sense financially.
I keep reading about top studios closing down in New York and LA that had top artists record number one hits there – some of the studios weren't even getting their top rate from these star artists or labels because it was seen as good promotion for the studio. Reading and hearing about these realities would make you wonder about the current 'recording studio' model as a business. Maybe the only business model that works is around the producer him or herself, and not solely as a standalone business.
What are the most challenging aspects of your line of work?
I think the answer has to be the size of the marketplace in Ireland – it's very limited. Also, not a lot of creative people, bands, artists have a decent budget that you could live from, or carve a full-time career from. Although the business model of the music business is changing, for the better I think, artists and songwriters still do not adequately get remunerated for their work, particularly now that we are in the streaming age. This needs to change. With the likes of Spotify, for example, I think there needs to be a broader subscription base than what currently exists, to really monetize 'the art' before an artist or songwriter can really generate decent money from a streaming service – for me it will always start with the song and the writers.
From January to September in 2016, Universal Music recorded sales from streaming and subscription services reached that €1.03 billion. It was up something like 65% on 2015 – that has to be encouraging. For who I hear you say? It ultimately has to come back to the artists and songwriters eventually. Once the model comes back to where I think it can, and artists alike have bigger budgets, hopefully it will be possible to make an excellent living from making records.
Another challenge is how fast the 'sound' of pop music changes. I still believe it's harder to write a simple pop song, than let's say, a cool rock or hip-hop tune.
What would you say are the top requirements for someone looking to enter this industry?
We get a lot of work experience students who come into VISUAL in Carlow where I work as the in-house sound engineer and theatre technician. I get asked this question a lot by some of students. Everyone has their own opinions of course, but from my own experience I think you need to know how to deal with people first and foremost. I'd even go as far as saying if you can deal with people, in an amazing way, and hadn't much technical knowledge, you'd be in a far better position than the opposite scenario. Having a great pair of ears, training and minding them, being a killer networker, learn how to manage your finances, turning up on time and having a work ethic that is un-paralleled are some pointers I try to live by everyday.
I'd also say to try and collaborate as much as you can. When I joined the BA Hons. Music Production degree, I teamed up with another student on the course named, Alex Flood. I recognised that Alex had serious knowledge in producing house and dance music, so I formed a team with him while we were in college. It probably was also me identifying that the sound of pop music was going much more dancey and I needed expertise in this area, but also learn how to produce this style of music – Alex was the guy to team up with! We're called EYELASH! We still are working together today producing and writing tracks each month, while collaborating with topliners – It only takes one track to hit! Easier said than done though.
What's next for Brian?
A few things. Firstly, I want my records or mixes to sound better. I know you're never 100% happy with how your records sound, but I feel I need to make certain steps in order to make the records I make or involved with, better. I may eventually start developing a team around me – maybe step away from certain aspects within the record-making process. When you're a student, you're doing everything, which is something I was never really comfortable with because I wanted or want to be an 'expert' or 'known for' one or two things maximum, whether that's just producing or just mixing or whatever. However I think it's very worthwhile when starting out to learn all aspects of the record-making process.
Secondly, I am in the middle of finishing my studies in Strategic Business Management & Leadership at the Institute of Business and Technology in Dublin. It doesn't exactly scream wanting to be in the studio full-time does it? So, over the past few months I have been very, very slowly diversifying or more so studying something I've always wanted to do and that is to become a music executive. Having knowledge in the language of business I thought might be good way of starting this long journey. Essentially, I want to be one of the first Irish music executives who is a global CEO of a major record label in the next 10 to 12 years. For the amount of amazing talent that is in Ireland, both creatively and commercially, I've always felt that we are badly represented on a global level in the boardroom – Irish people have a lot to offer for such a small nation. I know it's a huge and ambitious step and a lot of factors have to fall into place in order to be successful at any level, but it's what I want. I need move to Dublin, LA, NYC, London or Nashville full-time, and start working with a major label at an entry or intermediate level, and go from there. These cities are where the business is really at, especially if I'm slightly diversifying into a more creative business role (yes, I won't be far from the studio, and I feel knowing and having been through the full record making process will be an advantage). I know it's going to be a very difficult and long path. It's a scary thought, I've tonnes to learn and experience, but I am going to give it my absolute all.
Finally, in the immediate future, I have a few more mixing sessions coming up. I've also started writing a lot more, and collaborating with writers who are better than me. I am also production managing 'Alice in Wonderland', the musical, in VISUAL, Carlow and have also been asked to production manage the opening ceremony of the Pan Celtic Festival. It's being streamed live – nerve wracking! I will be triple checking those radio mic batteries!!!
Thanks a million, Pulse, for the interview! I cannot say how much I am indebted to the college for all of their education and guidance. You could say I am at a crossroads or transition phase in my career, which sometimes can feel weird or scary, but to anyone reading this whose wondering should they study at Pulse, I say most definitely! It's an education I couldn't have done without.
MUSIC PRODUCTION COURSES AT PULSE COLLEGE
Find out more about our Music Production programmes or Contact Us to discuss any of our other courses in more detail!
Click Here to find out about our next upcoming Open Event to visit the campus at Windmill Lane Recording Studios.
[openday]
FOLLOW US