ALUMNUS INTERVIEWS
Name: Dara McConnell
Course: Film Production Diploma
Year of Graduation: 2015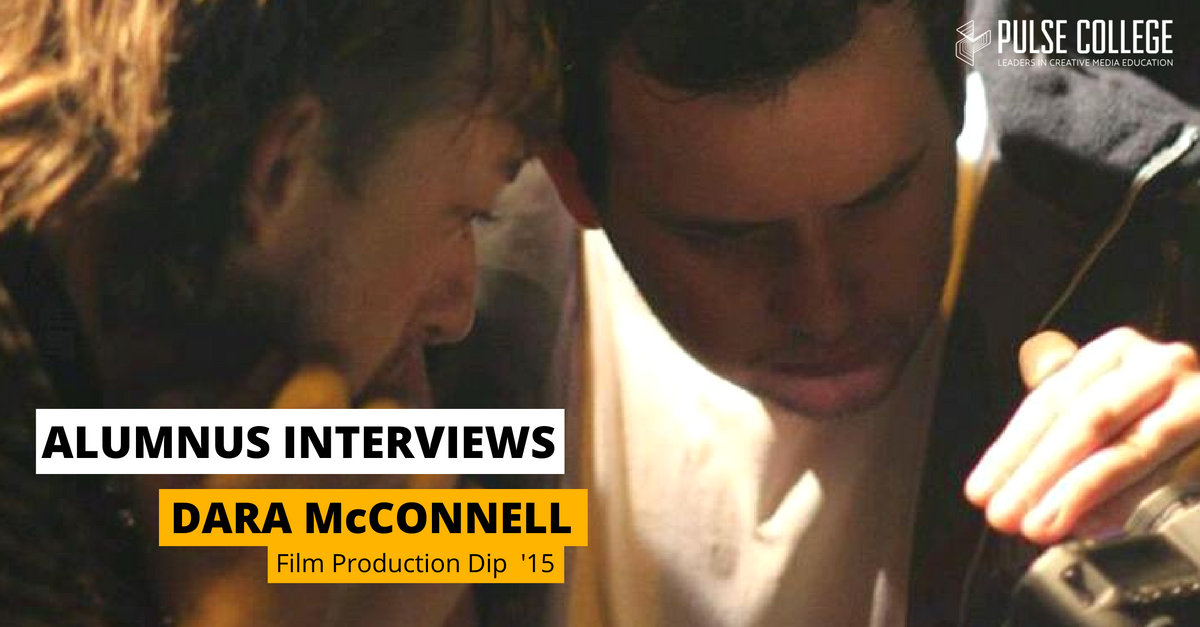 For the latest in our Alumnus Interview Series, we speak with Dara McConnell, graduate of the Film Production Diploma. Dara is currently working as a freelance Film Maker and is also heavily involved with production company, Last Left Media, who have shown a number of their short films at Irish and International Festivals and are currently in production for their first feature film.
Did you always want to work in the film production industry?
No, music was my first focus actually. I got my degree in Music Production at Pulse College in 2013 and for my final year Major Project I decided I would love the opportunity to score the music to a film. So, to make the project more interesting and challenging I decided to write my own film. Which I did. It was called 'Diane'. It did well, won some awards, and off the back of the mini success I had with that project, I realised this was something I was good at. So I kept writing and have been doing so since, still scoring, writing & directing my films.
What was your background before studying at Pulse College?
Before Pulse College I was in secondary school in Terenure College. My background was always music. Myself and another Pulse Alumni, Cronan Creagh, would perform for the school plays and religious ceremonies. Interestingly, Myself and Cronan went to primary school, secondary school and college together. Both studying Music Production at Pulse College and now both working in the film industry!
Why did you choose to study at Pulse College?
Having spent 3 years studying at Pulse College before embarking on my film adventures, I already knew the Pulse College family. It was easy decision to return to a place that has made me feel so at home throughout my education and career. Oh, and they had just splashed out on a fancy new Black Magic URSA camera!
What did you enjoy most about your time at Pulse College?
The atmosphere, the people. It's nice to have expensive equipment to make your projects look professional and pretty, but theres no way you will enjoy any of what's available to you without the right people guiding you and behind you. Something Pulse College can pride itself on, besides it's beautiful film equipment, is having the right people to motivate you. They are not going to make you do work. And they've told me that on day one of both the courses I took. You've got to push yourself and take every opportunity they throw at you. They reward you with their loyalty and support, long after you have left college and they certainly have done so with me.
Since leaving Pulse College, you set up 'Last Left Media' production company. Can you tell us about that?
My 'Last Left Media' involvement came about last year. Originally called Dullahan Productions, it was set up by some of my Pulse College Film Production classmates – Mark O'Rourke, Paul Rowland and Eoin King. The name is an homage to a horror classic, The Last House On The Left. Paul is a very talented director, with a keen interest in making things a little scarier. He recently made our first horror film called KLINK, which will be part of the Irish Film Institute's Horrothon Film Festival this October.
Eoin writes some scripts that make your sides hurt from laughing. He has a very unique sense of humour. Something that will only add to his inventive writing gift in the future. Mark, a cinematographer, is the man who captures everything for every one of us on camera. Almost everything you see in any film from Last Left Media has been captured through his lens. He does it with incredible professionalism and creativity. We each have equal say in the direction of the company. 4 Company directors I guess!
You recently premiered your short 'Numb' at a number of film festivals. What was the process making that short?
'Numb' has thankfully had some success on the independent film scene. We've been really happy with how festivals have enjoyed it so far. The process of making 'Numb' started with a college assignment, to make a 60sec promo for an ad, film or some some sort of corporate advertisement. I decided i would make a teaser trailer for a film I had been begging the course Co-Ordinator JJ Harrington to let me make at the end of the year, which eventually became 'Numb', so Thanks JJ!
We made the the teaser, really dark and bloody and quite interesting, and we used that video to help raise money so we could go make the actual film. We raised just under €1000 euro to go and make the film at the end of that year. I think from there, once we had the money to make it happen, people were happy to jump on board. So we ended up with a crew of 25 people, which consisted of a mixture of first and second year film students at Pulse College.
'Numb' took a long time in editing and post production. Thankfully I can mostly attribute that to quite a hectically busy few months after I left Pulse. I'm happy with how it has all turned out, and I managed to meet another incredible actor who brought the whole film to life as the lead, Graham Earley. It was great to have such a young and talented crew, including myself, watch such a pro at work. An inspiringly hard working actor and one of the best around.
Can you tell us about the role are you currently working in?
Currently I'm working on something much bigger, and hopefully better, then 'Numb'. Everything has to be bigger and better all the time. I don't want to say too much about it just yet but I'm finally writing my very first feature film, which is quite exciting, daunting, painful and thrilling all at once. So big plans for the next couple of months!
What kind of things did you learn at Pulse College that prepared you for the film industry?
Many many things, from editing software with Final Cut X, to detailed insights into production planning, scheduling and pre production of films. Though one thing I took from Pulse College was this – how to get my ideas out of my head and onto the screen. That sounds like the most basic part of being a director and it is in a sense. But it's a combination of a couple of things that you have to be good at to get you to that point.
Interacting with actors and camera operators and editors can be tough. Sometimes people just aren't on the same page. Whether you haven't explained yourself properly, or they had a completely different idea in their head, communication plays a crucial role on any film. The sheer amount of sets and and films that you get to work on in Pulse College on the Film Production course gives you the opportunity to experience what it's like on a real set. The pressures, the expectations, the stress and the thrill of getting the project over the line. Its all there. Its good preparation for stepping onto a professional set when you leave.
What would you say to someone looking to get into Film Production?
Don't be afraid to try new things. I started out as a musician and I took a chance with writing a script for a college project. Now I'd never look back and I've found what I love because of it. Have an open mind, you can come into this place with your heart and soul set on being a director or a cinematographer, and neglect everything else. I think you need to be more open-minded than that. The more things you can master, the less money you could end up spending on your films. Not having to hire a composer or an editor has so far saved me quite a few bob because I've done them myself!
FILM PRODUCTION COURSES AT PULSE COLLEGE
Find out more about our Film Production Degree and Certificate programmes or Contact Us to discuss any of our other courses in more detail!
Click Here to find out about our next upcoming Open Event to visit the campus and tour the studios!
[openday]
FOLLOW US