ALUMNUS INTERVIEWS
Name: James Latimer
Course: Music Production for Games Certificate (2013)
Course: Audio & Music Technology Part-Time Diploma (2007)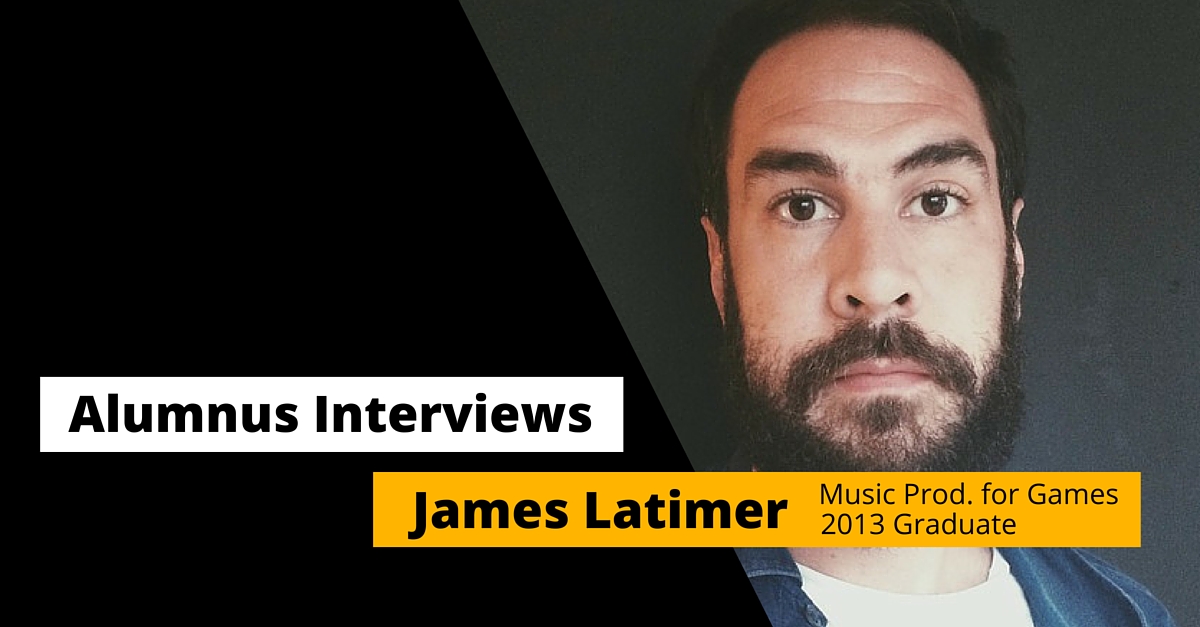 For the latest in our Alumnus interview series, we speak with James Latimer, recording engineer, sound designer composer and instrumentalist.
Did you always want to work in the Music & Audio industry?
Yes, I think I've always wanted to be involved in the industry being a huge fan of music, I've been obsessed instruments for as long as I can remember.
What was your background before studying at Pulse College?
Before Pulse I was training to be a chef and was passionate about food but it didn't compare to my passion for playing and recording music. I saved a little and enrolled in Part-Time Audio Technology Diploma course in Pulse College while they were still based in their older Pleasant's Place recording studio campus.
What did you enjoy most about your time at Pulse College?
I really enjoyed getting to grips with the fundamental practice of audio recording, and while I was already handy with DAWs it was learning about microphone and mixing techniques that really excited me. I then went to London to further my studies but enrolled in another course with Pulse College in Music Production for Games.
What kind of projects are you currently working on?
I am currently working on a number of short films, again working with foley and sound design and I'm also starting to provide audio solutions for VR productions. I have a nice studio space in the city with loads of gear, loads of instruments where I record and I'm hoping to get an E.P. released within the next few months.
The Oscar for Live Action Short Film goes to… pic.twitter.com/1WnaDHw86v

— The Academy (@TheAcademy) February 29, 2016
You recently worked on an Oscar winning short 'Stuttered', directed by Pulse Alumnus Ben Cleary, as Foley Artist. What was that project like and how did it come about?
I have been close friends with Ben for a long time, we've always shared ideas and collaborated on projects so when it came to this production I was always going to get involved in some shape or form.
Is Foley work something you would like to get more involved with in the future?
Yeah I really enjoy the process of foley work. A lot of people just use libraries and just slip them into a session but I find it very enjoyable to produce original sound effects and performing movements to the film. All you need is a couple of nice mics and a decent recorder and you're off. Ben Cleary has a short film currently in production and again I'm taking on the role as foley artist sound designer.
What kind of things did you learn at Pulse College that prepared you for your professional career?
I believe the colleges commitment to industry standards is invaluable. Getting to grips with the fundamental practice of recording and mixing initially really sets you up and you'll find a lot of the skills are transferable to related mediums like the film and the art world.
What are the most challenging aspects of working in the Music & Audio Production Industry?
As a freelance audio professional I have found it necessary to offer a broad range of services from audio editing to foley to composition. It might not be for everyone but personally I have found specialisation can be a crutch so I keep learning, keep reading, keep practicing new techniques and broadening my skillset.
What would you say are the top requirements for someone entering the industry?
The top requirements for anyone entering the industry for me would be, know your go to DAW like the back of your hand but also get to grips with alternatives. Practice recording in different environments, indoors, outdoors. There are some great books out there also that shouldn't be ignored like 'Mastering Audio, the Art and the Science' by Bob Katz. Also for people interested in post 'Audio-Vision: Sound on Screen' by Michael Chion.
What's next for James?
As I mentioned before we have another short in production which we are very excited about. It is a short co-directed by Ben and also another talented Irish director TJ O'Grady Peyton. Im hoping to get my own E.P. released this summer. Also my studio in Dublin 8 will be open and ready to accommodate multi-track, multi-room recording sessions, we are hoping for an early June launch.
Find out more about James by visiting his website here or following him on twitter @jimdigbylatimer.
MUSIC PRODUCTION COURSES AT PULSE COLLEGE
Find out more about our Music Production Degree and Certificate programmes or Contact Us to discuss any of our other courses in more detail!
Click Here to find out about our next upcoming Open Event to visit the campus and tour the studios!
[openday]
FOLLOW US