ALUMNUS INTERVIEWS
Name: Simon Hall
Course: Animation Full Time Diploma
Year of Graduation: 2016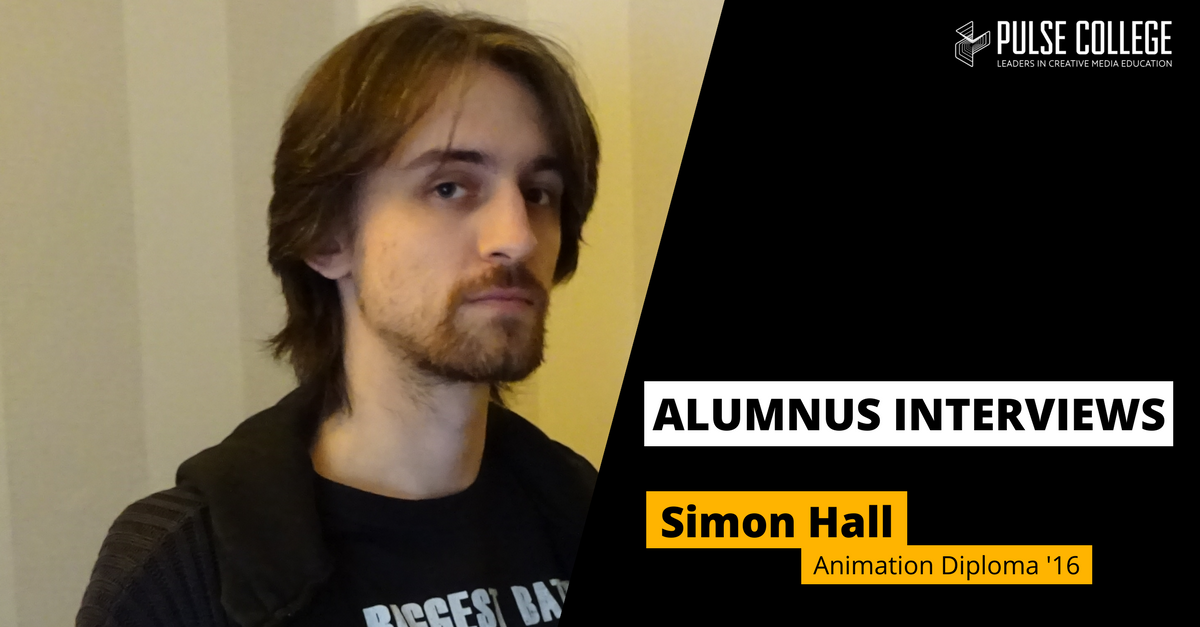 For the latest in our Alumnus Interview Series, we speak with Simon Hall, Technical Graphic Artist at BlackShamrock. Simon graduated from the Pulse College Full Time Diploma in Animation in 2016.

Hi Simon! First question, did you always want to work in the animation and game development industry?
Yes, I've always been a pretty avid gamer and spent the majority of my life involved in video games. I originally wanted to be creating cinematics but quickly realised that the amount of skills involved – for one person – would take many years to aquire. So I broke it down and have been pursuing a career as a technical graphics artist, a fancy way of saying I get to do a bit of everything until I can one day lead that cinematic team in video games.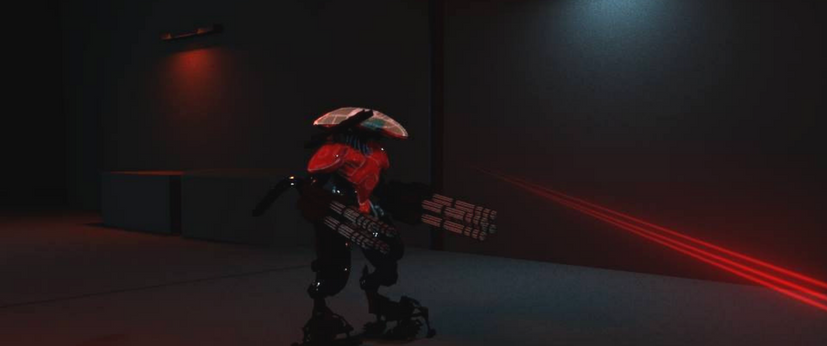 (Student artwork from Simon)
What was your background before studying at Pulse College?
I was un-employed and practicing at home as a character modeler and very basic animator. I was training up but looking for ways to improve my chances on getting work in games and Pulse was the right place to do that.
Why did you choose to study at Pulse College?
I chose Pulse College because of a few factors, The staff are well trained and still working in the games industry and in different industries like animation, film and music. This means you have access to a plethora of information from different perspectives which is great. The location, being in the centre of Dublin is just so handy as your close to everything. The contacts, one thing that really is impressive is the sheer amount of contact you make going to Pulse. This is one of those things that's really hard to put a value on as it comes down to you in the end, but for sure I would say that the people I've got to meet and know made my decision to study at Pulse College the right decision.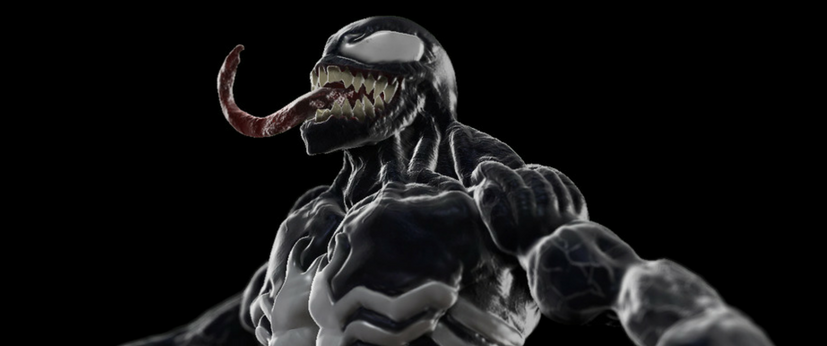 (Student artwork from Simon)
What did you enjoy most about your time at Pulse College?
I loved the environment, it was possible to really focus but at the same time it wasn't corporate. It felt more like an extended family who really wanted to help up everybodys chances on making it in games and animation.
What kind of things did you learn at Pulse College that prepared you for the industry?
I learned animation working with curves – a real plus as I soon discovered at BlackShamrock, I learned Maya as up to that point my experience was with 3Ds Max. I learned a bit more about clean topology workflows and edge flow. I also was shown pretty sweet un-wrapping techniques in Maya.
Simon Hall of Black Shamrock is teaching introductory animation in the Gaming Zone on the 1st floor from 10.30-12! pic.twitter.com/hTGIfY2nNC

— Dublin Comic Con (@DublinComicCon) August 7, 2016
You graduated from Pulse straight into Black Shamrock Games. How did that opportunity come about?
It was a bit of luck and a good effort on the part of my lecturers, the luck being a friend of mine Luiz who also works at BlackShamrock was being interviewed in Pulse by Olivier Masclef, the effort being my lecturers convincing and bringing Olivier over to see me once his interview was over with Luiz. Then it was on me to impress and demonstrate what I could do on the spot, this is all of course happening at the Global Game Jam and I hadn't slept in 2 days! But it worked out somehow and I that's how I ended up getting in.
What is one of titles you are working on at BlackShamrock and what is your role in that project?
One of the projects I am working on is a 'Blood Bowl' game, being on the art and technical end of the pipeline I need to add Visual Effects into the game that are also well optimized and will have a minimal impact on framerate. Especially as some effects might be on screen in numerous amounts simultaneously. Some characters in game i.e. Deathroller sure did come with complications when getting it to work right in Unity. This unit is basically a vehicle with a pilot/driver, so two rigs in one.
Describe a typical day at work!
A day in the office right now involves checking the Mantis (browser based bug fixing system we also use to assign tasks) for tasks that need completion. Take on a few tasks (I like to vary the work a bit, some VFX, some animation). Help out others if and when possible. Write up documentation when finished. Play some board games or Hearthstone on lunch, maybe go out for lunch to Arthurs Pub instead.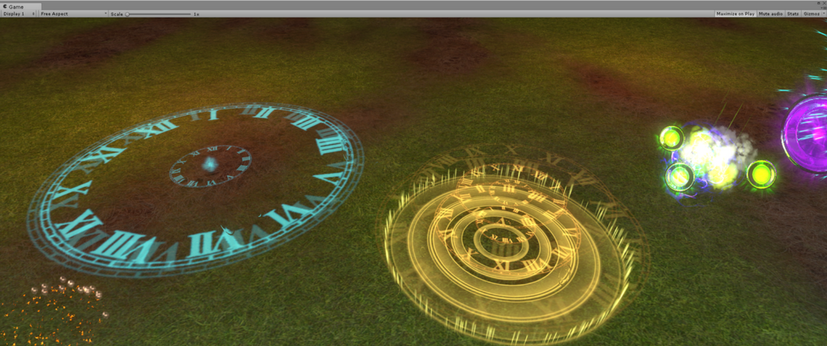 (VFX Scene for particle testing at Black Shamrock)
What are the most challenging aspects of your line of work?
Adapting, I am constantly adapting to new workflows and bettering them when possible but it requires a very broad understanding of a lot of different softwares. I currently am both getting to experiment with new techniques and tools but at the same time having to pick and structure a workflow that will be used as common practice for future staff.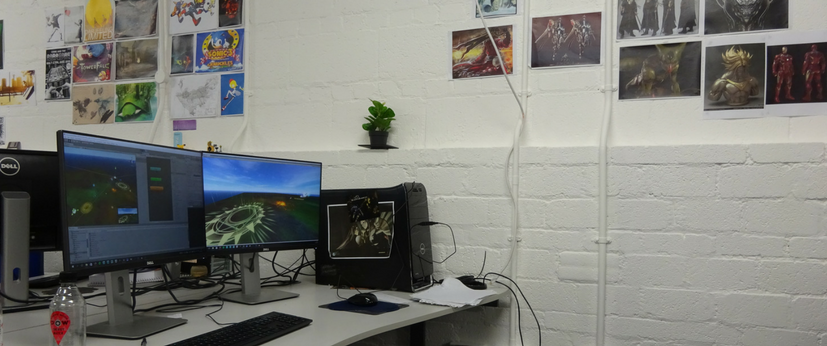 (Simon's Desk at Black Shamrock)
What would you say are the top requirements for someone looking to enter the industry?
Drive. You have to be driven, you have to want it, you have to be focused on one special area that you can do well as a fall back or primary job description but also not shy away from learning multiple other roles. The more versatile you are the better your chances, having something you have focused on shows that you can focus and not get distracted by every other thing. Finding that balance really does the trick.
What's next for Simon?!
Next up is more of the same, BlackShamrock is still a very young company and has serious plans to stay the course and grow in Dublin, expanding is one of the top focuses here at the moment. I plan on staying and doing my best to take part in that change. Maybe a long, long time from now my plans will involve leaving Ireland for a bit as I've spent my life here, pursue cinematics solely and seek work with someone like Blur Studios, Bizzards Cinematics or Riot's. Either way someday I'll make that transition.
ANIMATION COURSES AT PULSE COLLEGE
Find out more about our Animation programmes or Contact Us to discuss any of our other courses in more detail!
Click Here to find out about our next upcoming Open Event to visit the campus and tour the studios!

FOLLOW US