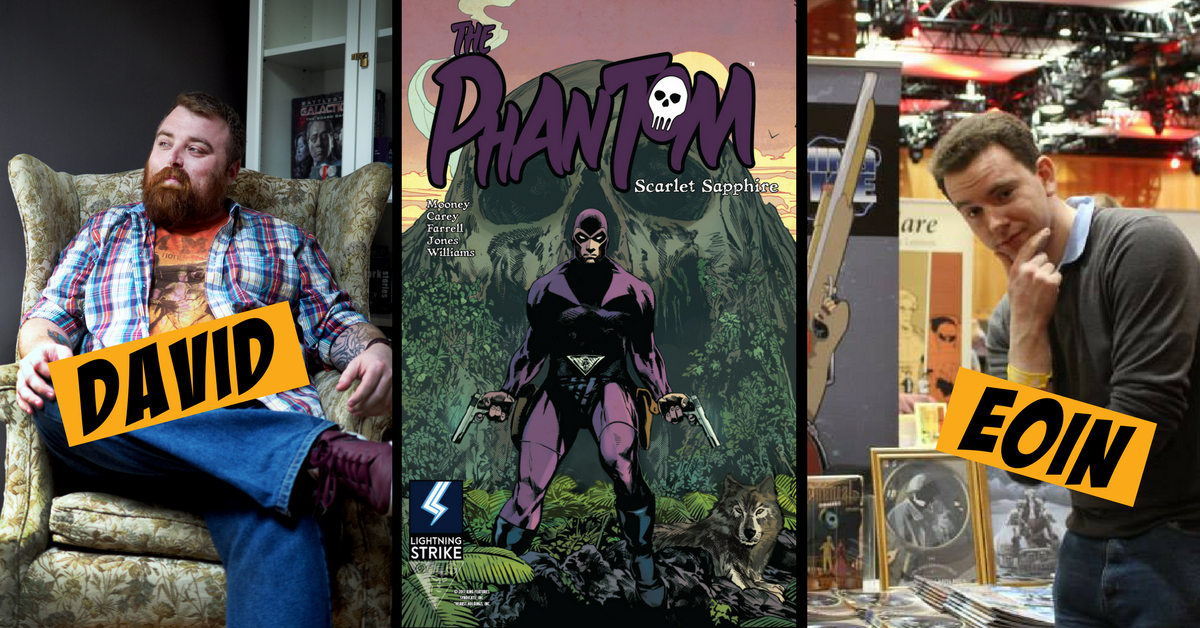 We sat down with David Williams (Head of the Game Development and Animation Department) and Eoin McAuley (Lecturer on the Business and Entrepreneurship modules for our Games Development and Animation programmes and Founding Publisher of independent comic book label, Lightning Strike Comics) to chat about their most recent venture, as they launch the latest issue in their take on the classic graphic novel series, The Phantom! This issue follows on from their special 80th Anniversary issue launched last year, created in partnership with the character's US owners, King Features (more on that here). We asked them about the project, how it came about, the strong Pulse College involvement in bringing it together, and hopes for future issues of The Phantom.
Q1. Hi David & Eoin! Can you tell us the history of The Phantom comic book series for the uninitiated?
David – The Phantom is one of the longest running comics out there, created by Lee Falk in 1936. He's always been a really inspirational character as he is seen by most to be the first ever costumed superhero, an idea that is so commonplace these days that we never ask who did it first. It's the story of a family legacy to fight pirates and corruption based in the fictional African country of Bangalla, but at the same time dealing with real political and social issues. But for a fan like me its more just a good old fashioned swashbuckling adventure story.
Q2. How did the idea to develop a new Phantom comic book series come about?
Eoin – This issue of 'The Phantom: Scarlet Sapphire' originated from a previous Phantom book that my company Lightning Strike Comics produced last year in association with Dublin Comic Con under license from King Features Syndicate. Up until this point Lightning Strike was best known for producing new independent, creator-owned comic content, but for Dublin Comic Con 2015 we produced a Sherlock Holmes comic for charity with the permission of the Arthur Conan Doyle Estate and from there began our first steps towards working on licensed projects.
The Phantom book we produced last year was a celebration of the character's 80th anniversary and featured the work of never before published writers and artists including members of Pulse College's very own faculty and student body. The proceeds of this book were donated to charity but owing to the commercial and critical success of the book, this was incentive enough for me to pursue another book featuring the character. The character is best known from its syndicated newspaper strip and is most popular in Australia and Scandinavia with some Irish readers familiar with the character from when the strip was published in Irish papers. Essentially this project is designed to reintroduce an Irish audience to the character while entertaining the wider community of "Pans".
David – We all love the character of The Phantom, we are fans first, and had such a great time working on it. Eoin suggested why wouldn't we do a full story and add to the character and the mythos. With "The Phantom – Scarlet Sapphire" we are bringing a modern story but really remaining true to the character.
The origin of the Phantom will be told by @Fhiacha for our upcoming book 'Scarlet Sapphire' with lettering by @RobJonesWrites pic.twitter.com/RB9VuTGLJO

— Lightning Strike (@LSComics) April 19, 2017
Q3. What's your role in the project
David – I am the editor for the book, it's my role to make sure the story is coherent and that the art is consistent. Its a great fun role because I get to be involved in the creative process right from the beginning, working with Stephen Mooney who wrote the story and did the cover art, and with Robert Carey who did all the internal art and visualises all Stephen's concepts.
Eoin – I served as publisher for the project. My role essentially involved putting the team together and doing the paperwork. This ranged from negotiating the contract and paying the bills to ensuring that the team kept on deadline and communicated as a unit.
Q4. What drew you to this particular character?
Eoin – I was always a fan of the character from the '90s movie featuring Billy Zane and the animated show Phantom 2040 as a kid. I came to the comics much later in life but the rich history of the character and the fact that he preceded other famous comic book characters such as Superman and Batman (and in fact served as a blueprint for some of these characters) really drew me in and enticed me to put my own stamp on the character.
Q5. This comic seems to be very much a Pulse College affair! Can you tell us about who is involved?
David – Yeah, we have a few members of the Pulse College team working on the book, myself of course but also Eoin who owns Lighting Strikes comics, Robert Carey who did the illustration and Triona Farrell who is the colourist. Myself and Eoin both teach on the Games and Animation courses and Rob and Triona are Sequential Art lecturers at Pulse College.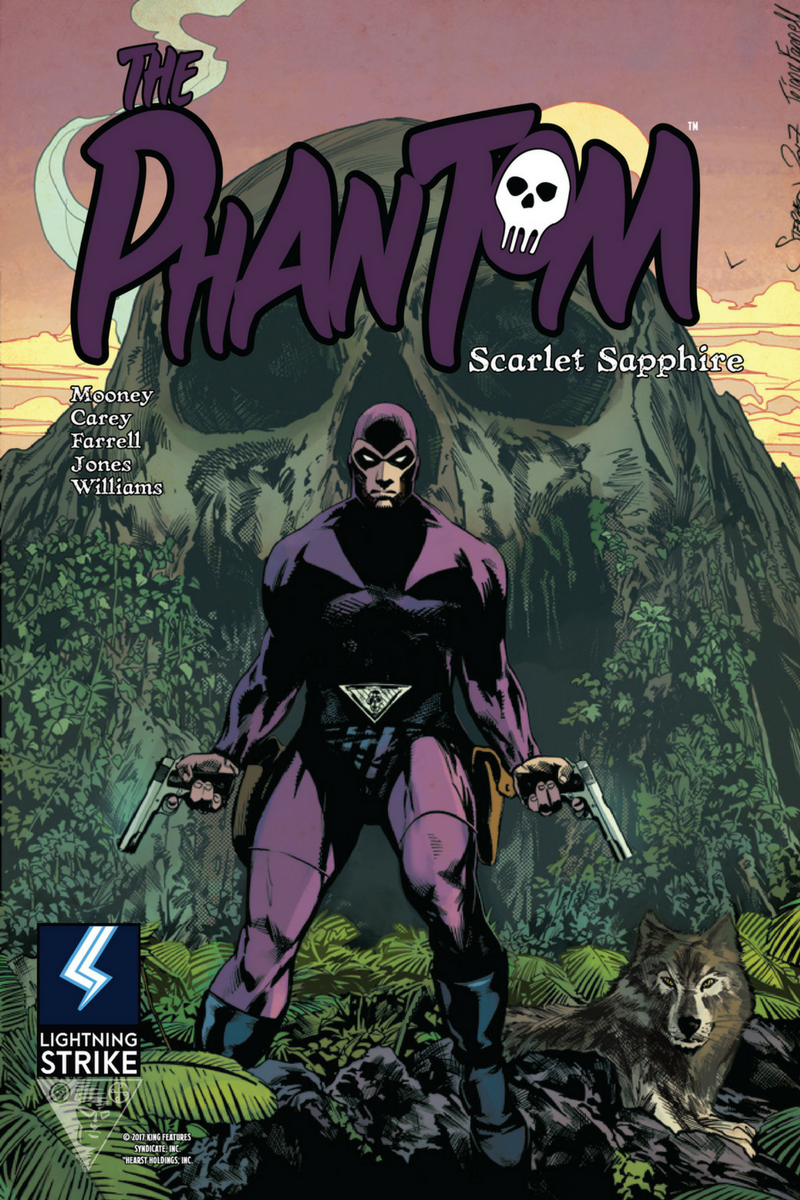 Q6. Can you tell us what the story of this new issue is all about?
Eoin – A hidden criminal mastermind, known only as 'The Baron', has infiltrated the political, economic and legal infrastructures of Bangalla exploiting young workers to harvest the mysterious and rare jewel known as 'The Scarlet Sapphire'. When this mining operation, and its detrimental effects on the communities of Bangalla, comes under an investigation headed by Diana Palmer for the UN, it's not long before The Phantom enters the fray to confront The Baron and his mysterious but deadly bodyguard!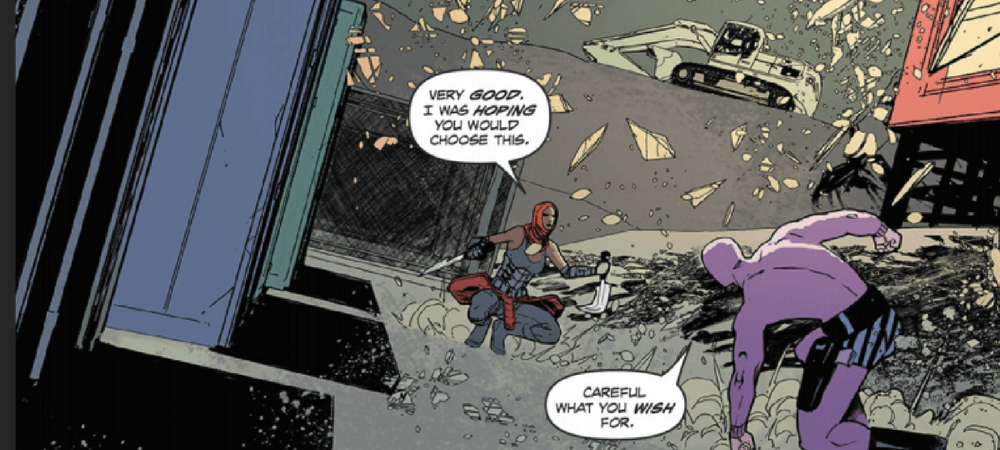 Q7. What were the biggest struggles with bringing The Phantom back as a comic book series?
Eoin – Being a character under licence presented a new set of challenges to Lightning Strike as a company. Where with creator owned projects or original content we can start production from the word go. But a licence contract affected everything from budget to timetabling the project. But it has ultimately proved to be a fantastic experience and really allowed Lightning Strike to learn and grow as a company.
Q8. What are the hopes for this, and future, Phantom issues??
David – Well so far the book has made it to America, Australia, Canada, England, France, Iceland, India, Ireland, Norway, Sweden, which we are ecstatic about and the feedback has been so positive. It would be great to do more and maybe we will, but it really is up to the fans of the book which we hope there are plenty of!
Q9. Where can our readers get their hands on the comic?
Eoin – It is now on sale in Dublin at Big Bang Comics (Dundrum Shopping Centre) and Dublin City Comics (Bolton Street). For readers in Australia, Phantom Vault are selling copies and all retailers can ship internationally. Still stuck?! Email us! our guarantee is that whoever wants a copy will get one.
On Sale Now!

THE PHANTOM: SCARLET SAPPHIRE!

From @LSComics and by @Stephen_Mooney @Mansloth @Treestumped @RobJonesWrites! pic.twitter.com/qUkY4F8UBl

— Big Bang Comics (@TheBigBang_) June 2, 2017
ANIMATION COURSES AT PULSE COLLEGE
Find out more about our Animation programmes or Contact Us to discuss any of our other courses in more detail!
Click Here to find out about our upcoming Open Event where you can visit our Games and Animation Campus and meet the course tutors in person!

FOLLOW US