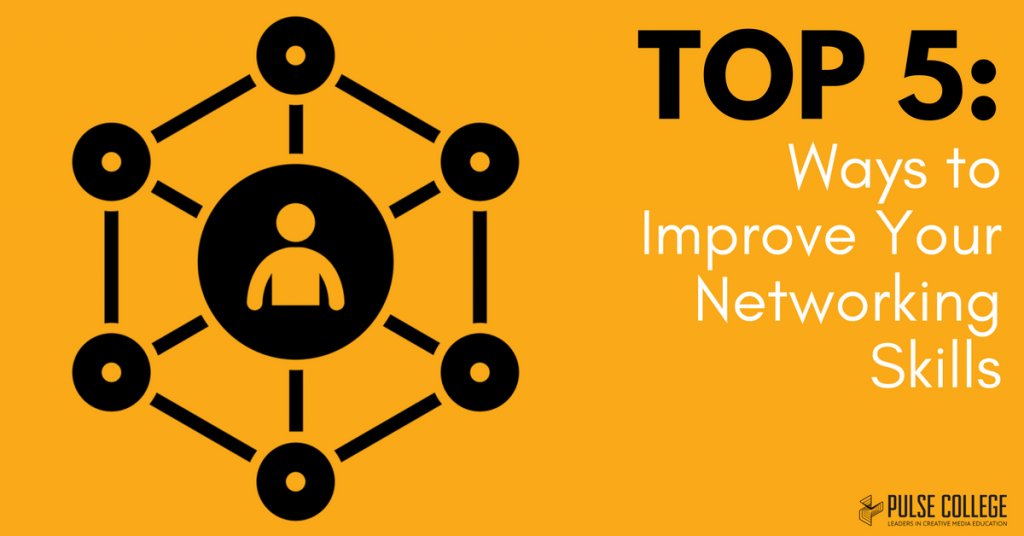 It's not what you know it's who you know! This isn't entirely accurate but there is at least some truth behind the old saying and the reality is that access to influential people – gives you influence.
Networking is a skill that can be learned just like anything else and arguably it's just as important as any other creative or technical skills you may be studying.
It doesn't matter what stage of your career you've got to – meeting the right new people will help you reach your professional goals. And you're bound to meet some pretty interesting people along the way.
Social media, conferences, events… They can all seem really crowed and sometimes intimidating places to network unless you set yourself up with a strategy. Here's a few techniques you can use to help formulate your strategy and start networking successfully – read this article and just try at least one of these tips over the coming weeks; you might surprise yourself!

Change Your View on Networking
Whether your area is audio, game design, film or animation you'll find that the industry revolves around connections, word of mouth, reputation and credibility. You'll going need to get into the right circles to get the inside track on what's happening.
For lots of people this comes naturally and for others it can be a bit daunting but don't stress you'll get better the more you practice.
The first thing we suggest doing is changing the way you think about networking. Think of the process as an opportunity to meet new people and build strong relationships. Treat everyone you meet as if you are already friends and not just trying to get to know them for the purpose of networking. From their perspective, you are going to appear more genuine than someone who is pushing their own agenda. Keep the conversation light and find out what interests they have and keep an eye out for any cross over with your own. Most importantly be yourself!

Set Goals
A good idea to help form your networking strategy is to set yourself some goals and targets. Having a clear picture of what you are trying to achieve will help you to focus and motivate yourself.
How will networking help you – here's some common goals:
Land a new job
Secure funding for your project
Promote your work
Meet new clients
Keep the goals realistic and tweak them over time. Track your progress as you go and measure your success – this is a great way to become more confident when you see what you have achieved.

Network Online
Social Media
Networking online is obviously very important and there's several ways to do this. When it comes to social media all the major platforms are great. If you haven't already set up a LinkedIn account, we'd really recommend it.
Start thinking about using your social media to do more than just keep in touch with friends and family. Set a small daily goal for social media engagement – each day either like or share other posts from your industry or from an industry professional you admire. You should be showing that you like the work of others in the industry. Making yourself part of a wider community is key.
Website
In a recent blog post we discussed 5 reasons why every music producer needs a website. This doesn't just apply to music producers but to all creative professionals. For example, film professionals often use their own websites to promote their work.
Email
Once a week, send an email to a different leader from your industry with a compliment and ask them a question related to their work. Your goal should be to sound genuine and not spammy and they will probably be really chuffed to get the compliment – you never know where it might lead!

Real World Connections
So, when your done with all your online networking, head out into the real world and hook up with some real people (it's fun – honest!)
Our music students are always heading to different gigs and after a while they get to know lots of people because they spot the same faces.
Get out to some networking events – meeting like-minded people will help grow your professional network.

Always Follow Up
This may sound like an obvious one but it often gets over looked. If you get a business card from someone or they drop you an email, it's always worth following up. Even if it's just a short message to say it was great to meet them – it's well worth the effort.

Network with Us!
At Pulse College we love networking and hold regular open days where you can come chat to us – why not start here?
Happy networking!

FOLLOW US