Check out the Diploma in Games Development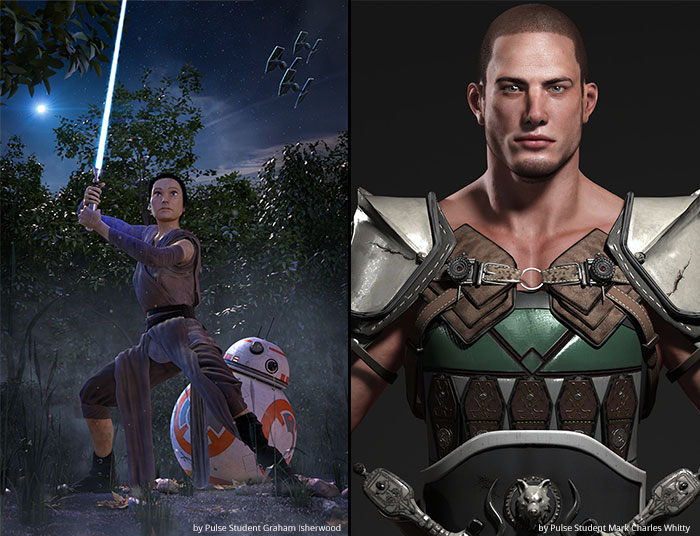 If you're passionate about gaming and have a creative streak, then the thought of being able to craft a gaming experience is exciting, isn't it?
Maybe you've already considered studying Games Development but aren't sure if it's the right fit for your skills and ability?
This article will help you to get your head around the gaming courses Pulse College offers; what's involved and what are the skills that you'll need to enjoy studying gaming.
Introducing Games Development & Production
We've been running our Games Development Courses for many years and the programmes have  has evolved and grown over time, as it's a very dynamic field and the tech is constantly changing. You can study either full time or part time, and both courses give a really good sense of the different aspects involved in game development, including game production techniques, concept art, character design, 3D animation, game audio and programming.
We take you right 'under the hood' so you'll learn all about the basics initially but also the latest techniques and trends in current 3D games…and what it takes to make it in an evolving, competitive and fun industry.
Some of the Benefits of the Diploma in Games Development and Production.
Taught by practicing industry professionals – you know you're getting the best expertise and an education in the latest tech and techniques
Portfolio of work – you'll produce real-life examples of your work to help you hit the ground running and improve your employment prospects
This is an exciting course in a growing industry. It's a great first step to your dream career.
The Games Development scene
Games Development is a fast-growing industry with plenty of employment opportunities in both Ireland and further afield. As it's a new and young sector, the age profile tends to be quite young.
Healthy Characteristics to have for Game Development
So, what are some of the common traits you'll need to get into the world of Game Development and to make it in the industry?
Depending on the project at hand, there's often many a lot of people involved in developing a game and plenty of career possibilities along the way. Roles vary from artists, producers, designers, sound designers to graphic designers.
What does this mean for you?
The ability to be a good communicator and a team player is vital to help you succeed in this industry. And as there may be many different touchpoints throughout the process, it's always useful to have a sense of curiosity. Different roles have different effects on the end-product and user experience.
Moreover, a curious mind goes a long way towards achieving success in this field. When you have the skills and framework to assess a gaming experience, you'll be able to distil a game down and determine what makes it fun and not so fun… This includes its high points and it's breaking points. The ability to critically think about a game holistically with all of it's 'moving parts' is vital.
On top of these 'soft skills' a creative flair and technical aptitude go a long way too.
Why become a Games Developer
If you have an interest in this innovative industry and feel it's something that you would like to do – we have good news. Jobs are in high demand which typically means higher incomes. And there are so many diverse learning opportunities here.
However, like many career choices, as you progress up the career ladder and the level of responsibility increases – you might well find yourself under a lot of time pressure, doing over-time and putting in long hours. But this isn't always a bad thing as if you've made the right career choice, you'll be working on something you truly enjoy.
So what are your career opportunities post-graduation?
Like many different career fields, practical experience is one of the best ways to stand out and get started. Fortunately for all budding games development students, at Pulse College, students produce a portfolio of work. This means you will hit the ground running in your job search when graduation comes around. This practical and tangible work is a great way to get started and noticed by employers.
From graduation, there are a variety of avenues that you can explore to further your technical, artistic and professional abilities. If you want to be successful, you probably will continue to study and educate yourself. But this is a great initial course to open up many different paths you can take in this diverse industry. So the choice really is yours!
See our courses for more info on typical careers in Games Development.
Final thoughts on Games Development
Overall Games Development is an exciting and innovative industry to work in. Our courses are practical and tailored to give you a diverse and practical taste of the industry. You'll learn everything from the basics of games development through to visualisation, creative thinking, digital modelling and full 3D games programming.
If all of this has ignited your creative flair and you're interested in applying for the full/part time Game Development courses or need further information, then please apply here.
[openday]