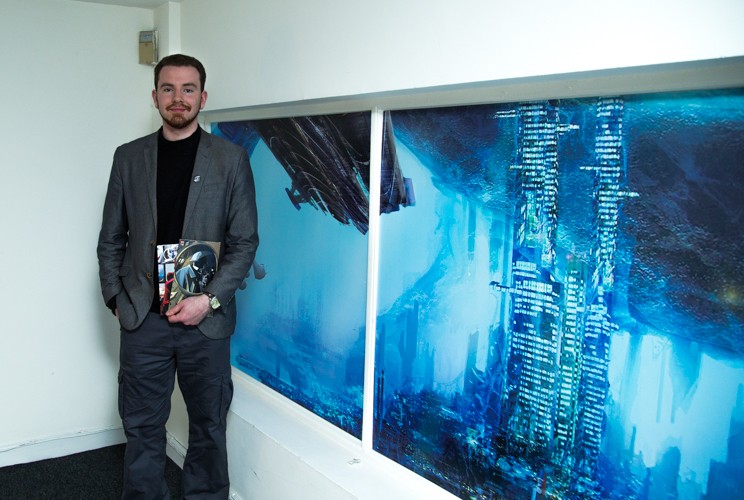 Eoin is CA Officer for in the Springboard Animation Course here at Pulse College and his extensive skills, enthusiasm and real-word expertise make him a very popular lecturer indeed!
Eoin's busy right now preparing for a new bunch of students in September, but we did manage to grab him for a quick chat to fill you in on his background, what students will be covering in the Springboard course and to grab a few tips for people looking to break into the animation industry.
How did you find yourself teaching on the animation course here at Pulse?
My background is comic book publishing and I run my own independent comic book press, Lightning Strike Comics. Originally, we took indie artists and writers and worked to create our own intellectual property and published it into an anthology series and then we started to do stand-alone books as a spin off.
It was a natural step to get into licensed properties and soon I started to produce licensed comics based on characters such as Sherlock Holmes. The highest profile one we produced was about a character from the Phantom, owned by the Hearst Corporation – that was a lot of fun.
When I was producing these books, I had them on display at a stand at Comic Con and met David Williams, Head of the Game Development and Animation Department at Pulse College. David must have been impressed with what I was doing as he invited me to lecture on the business and entrepreneurship modules for the Game Development and Animation programmes. I was chuffed and gladly accepted!
After I while I pitched some ideas for short courses to the team, such as the Sequential Art and Design Course which is essentially a comic book course. I'm happy to say the idea went down well and soon I was invited to contribute to the validation board and I got involved in putting the modules in place for the BA Degree in Animation and also for the Certification in Animation. As it turns out, both of these courses have been hugely successful programmes.
It's been an amazing few years and I've loved every minute of it. I still run my publishing company and they go hand-in-hand as now I'm in a great position to invite students to participate and offer submissions. It's a brilliant opportunity portfolio-wise for students to work on licensed property for a larger organisation.
There's a really vibrant animation community in Ireland – how come?
Yes, it's fantastic and a real growth area. The internet and digital printing have certainly opened the doors for people to work in this business  – nowadays anyone can publish online, and digital printing has made it very affordable to publish physical books.
There's a great blend of work taking place and a big cross-over between animation and creating artwork for comic books. If you're interested in narrative, storytelling, design, character design and even story boarding – there's a lot of similar skills involved across all these areas so there's a nice ebb and flow between the work.
Any good animation websites to follow the latest developments?
There's quite a few good ones…..Animation Ireland springs to mind. It has an up-to-date list of events taking place around the country, it publishes new and exciting project announcements and it also lists internships, job placements and full time positions that are available.
There's also quite a few very active Facebook groups so it's worth having a look there too.
What seems to be generating the buzz and growth in animation here?
Well, in the animation industry the fact that we are in Europe and a part of the EU is definitely a positive factor. Brexit also provides a chance to make Ireland even more appealing.
On top of that we have a very strong history in the arts, storytelling and narrative so maybe there's a natural flare for animation.
When you blend these factors with a highly skilled workforce and the fact that several large studios are based here, Cartoon Saloon, Brown Bag and Boulder Media who are owned by Hasbro – to name but a few – there's a real concentration of industry pro's working together making Ireland very attractive.
We're also in that sweet spot between the UK, US and Europe and of course we speak English which is useful globally – so it makes sense for production to come here.
What can students expect from the Springboard Animation Course?
The Springboard Animation Course is basically the Level 6 certificate in animation and it's the exact same as we teach our full time and part time students. It's also the same content as 1st year of the BA Degree in Animation so it's a really high quality course as far as the material is concerned and it gives students a very good in-depth knowledge of the animation pipeline.
The course runs across two 12-week semesters so it's 24 weeks in total, either side of Christmas.
In semester 1 students are introduced to modules including Life Drawing which allows them to practice their skills at anatomy, hand-eye co-ordination and illustration and also how to translate work from paper and pen to stylus and tablet. This then ties in nicely with another topic – 3D Animation Studio 1. This involves the process of building a skeleton for their characters and making the characters do things – like walking – which really brings their creations to life.
Then we'll look at some theory-based subjects, like Animation History and Theory which explores the full history and development of animation, the key players and the studios involved. This module also explores the critical issues of animation such as…. how genders are represented, how racism occurred throughout history and how this has impacted on modern storytelling and animation today. Another nice topic students cover in semester 1 is Visual Culture and Theory and this provides a very good accompanying piece to Animation History and Theory. It explores elements such romanticism and how they have played a part in the evolution of animation.
Then in semester 2 students will get to implement what they have learned in the theory-based subjects in semester 1. For example, in Animation History and Theory students will learn about the 12 Principles in Animation:
Squash and Stretch
Anticipation
Staging
Straight Ahead Action and Pose to Pose
Follow Through and Overlapping Action
Slow in and Slow Out
Arc
Secondary Action
Timing
Exaggeration
Solid drawing
Appeal
The main purpose of the 12 principles of animation was to create an illusion of characters adhering to the basic laws of physics. However, they also deal with more abstract issues including emotional timing and a character's appeal to the audience.
So, in semester 2 students will begin to create their own 2D animation based on their understanding of the 12 principles.
Students will also cover 3D Studio 2 which follows on from what they will have accomplished in 3D Studio 1 in semester 1 along with 2 other interesting topics – storyboarding and narratives.
It's a packed programme full of great material and opportunities to learn in a practical way.
What can students do to prep for the course?
We've a blend of different people applying, some who've worked in animation studios before and are looking to upskill, some who are interested in changing career and some who are brand new to animation.
As part of the application for Springboard, applicants will go through an interview process. During this time applicants are invited to submit a portfolio piece and this doesn't necessarily have to be a detailed animation but it can just show us some illustration work or perhaps a project they've worked on before. We need some re-assurance that they are interested, self-motivated and will be constructive with their time on the course.
Animation is very deadline orientated so, if potential students get busy working on portfolio projects in their own time, it will help prep them for the course and for a career afterwards.
It's a good idea to sketch every day, it doesn't need to be detailed, but just having a sketch book and pencil to hand will not only increase a students' skills and benefit their future career, it also helps to maximise the usefulness of a student's time on the springboard course.
Students should always be trying to expand their portfolio and when they come to Pulse College there's a broad comprehensive curriculum across the academic year covering the full animation pipeline. There's a lot of different aspects to the course and some will appeal more than others which is ok, as each student will find maybe one or more areas he/she particularly enjoys and excels in. We often see that a couple of different portfolio areas can grow from the topics students like. Life drawing, 2D Animation and Storyboarding might compile one portfolio and 3D, Texturing and Unwrapping might compile a second portfolio.
We expect students to walk away with a good understanding of all aspects of the pipeline and have a specific understanding of what they want to accomplish in the industry.
So, any tips for landing that dream job?
Yes…..we're always in touch with industry professionals and they say that if they have someone in for an interview they often ask what they want to work at. They don't like to get a response "what do you want me to do" – they want the individual to turn around and be positive and say ….. "I am a rigger", "I am a character designer" etc….
Another big thing is to keep an eye open on what jobs are available and explore different channels. Some students can be a bit shy and say "what happens if I apply and don't get it?" Try and try again!
Don't be too precious with your work and take on any critique you receive. If someone has taken the time to give some feedback, they were obviously encouraged by what they saw and would like to see you do better next time.
Don't be discouraged if it takes more than one attempt – that's the nature of the industry – you need to be resilient; but it's worth it!
[openday]
FOLLOW US