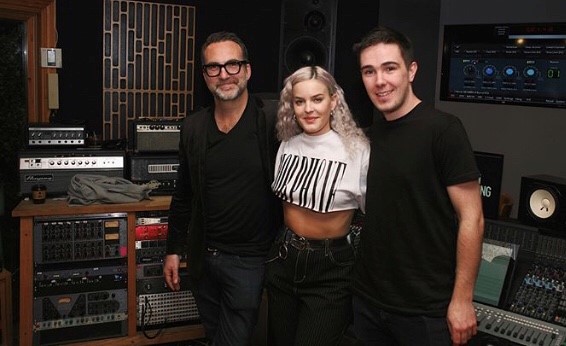 Jack Power is becoming a household name on the Irish music scene, having worked with so many talented artists recently including Gavin James, Niall Horan, The Academic, Aslan, The Coronas, The Blizzards and Paddy Casey – to name but a few!
Jack is a former student of Pulse College and he landed his dream job as Studio Manager and Engineer at Camden Recording Studios shortly after finishing his studies. We love to catch up with our past students and hear how they're getting on, so it was a real pleasure to sit down with Jack for a chat between sessions in the studio…….
Jack, would you mind telling the readers a bit about what you studied at Pulse?
Yes absolutely, I did the three year BA Degree in Music Production and I went straight from secondary school into the degree course. So I studied all sorts of topics including music technology, music theory, the music industry, sound design, music production and studio design. It's a great course and it's practical – it really equips you with the skills you need to get working in the industry.
How did you hear about the music production course?
I knew about the college for a while as it has a great reputation and I did a bit of research online. What really helped me choose Pulse was when I registered for the  open day – I was blown away.
As soon as I went through the door, I basically fell in love with the place. I met Tony Perry and got speaking to him about the course and got on really well with him. I'd been looking around for a music production course, my family are quite musical, and it was something I wanted to get into.
For me what sealed the deal was to have an actual running studio to learn in and it was hard to believe the quality of the facilities at Pulse College. You're not just learning in any old studio, Windmill Lane is world renowned, and that was me sold basically! To have a situation where your classroom is a studio is phenomenal.
Over the next three years I had an amazing time and if I'm honest I actually was dreading having to leave the place!! I got to know everyone during my time there, and all the lecturers are fantastic people.
One other thing that was brilliant about Pulse was that the class sizes weren't too big, so you got to know each lecturer personally. When I was studying there, I'd be chatting with friends who were studying in UCD or Trinity or different colleges around the country and their class sizes were way bigger. Speaking with them at weekends, you'd be chatting about your lecturers and saying some of the class might have had a pint with a lecturer and my friends couldn't believe it. The fact is, it's a very personal thing and that really helps, particularly for this kind of industry where it's a small, connected community. In the Irish music scene everyone knows each other so getting that experience, knowledge and advice from your lecturers was amazing. It definitely stood to me.
So you're a big fan of the facilities at Pulse College?
Absolutely, when I was there you booked in your assignment times to use the studio, maybe it was to record a band or solo artist or complete a task like stereo miking techniques, but you were booking into these amazing studios to complete the work. The lectures were during the day and then we'd do a late-night session on project work in the studio – it was a lot of fun and a great experience!
This is where you get to learn, figure things out through trial and error. For example, Studio 1 has a unreal Neve Console and downstairs is the SSL desk – it can be a bit mind boggling at first but you're there to learn. The fact that you can go in and get that hands-on experience is incredible….
To put this into perspective – I had someone in doing work experience with me here in the Camden Recording Studio earlier in the year and they were brilliant so I told them to keep in touch. Last week in fact I got an email from them and they told me they were thinking of doing an online music production course and asked my thoughts on it. I told them that while the course might be good you won't be able to get that hands-on experience online. I also said networking through the lecturers can be extremely valuable – I got some great references from Pulse, which made all the difference.
I know Pulse regularly do a summer course, so I told them to have a look there first. You can't beat that hands-on experience.
If I was hiring someone I'd be looking for practical studio experience. Have they sat in front of a console? Have they gained in a mic? Have they recorded a drum set?
What's your current role in Camden Recording Studios like?
Well there's lots going on – my job title is Studio Manager but there's new things happening everyday which keeps me on my toes. Part of my role is to generate new business for the studio – this can involve gong out to meet bands or artists. I'm the head engineer too so a lot of time I'm working in the studio – with all the artists that come through the door, I need to be around to sort the engineering side of things.
On top of that I do some writing and producing for various projects. It's not a bad life, but it is busy!
We heard a rumour you like to dabble on the guitar – does this help in the studio??
Well I've played guitar since I was a kid and it does come in handy at times. More so when I have my producer hat on, as opposed to my engineer's hat.
It's not a pre-requisite but it does help if you're sitting with a band and maybe doing a vocal session. If the singer is getting a little tired they might be struggling just to hit one or two notes perfectly and rather than me trying to make a show of myself and sing the note – being able to just pick up the guitar and play the note for them can really help.
Is there much cross over for you between sound engineer and music producer?
There are some obvious differences but in reality, there's often a bit of cross over between the two roles. I've noticed that when I'm meant to be engineering a session I end up taking on a producer role, where a band might be younger and less experienced. They might not know how to run the session and maximise their time in the studio. In this case you have to help them out.
The engineer is there to cover the technical aspects of the session and make sure what the band is playing is being recorded, whilst the producer is managing the project and the budgets.
I find that plenty of bands today do a lot of work at home before they arrive at the studio. For example they will do a certain amount of programming on their laptops and then they might use the studio to record acoustic instruments like drums or maybe even just vocals.
Are you seeing any interesting trends?
People are definitely more educated as far as sound engineering is concerned and they know the hardware in the studio. It's often because they've been working on stuff at home so they've been using the software plugin version of a compressor, for example. Then they can easily spot the hardware versions when they come in. This makes people more adventurous and they'll often ask if they can try this or that to create a certain type of sound – that's quite cool and exciting.
Another really nice trend from the song writing side of things that I've noticed in the last 6-12 months is that people are beginning to work together, collaborate and co-write. We have a song writing room here in the studio and people are connecting online, maybe on Facebook groups, booking out the room and meeting for the first time to write new music. It could be a violin player, with a drummer, bass and singer getting in a room together and the results are quite interesting! Anything that we have in the studio can be used so it gives great flexibility.
It's been happening for longer in the UK, but the trend seems to be spreading to Ireland which is great to see.
Have you got any tips for people trying to break into the industry?
Without being to cliché, it's important to be yourself. Try not to imitate some one and find your own sound. People try and use reference tracks for writing or mixing a song to make it sound like something already out there. If that sound is currently in vogue by the time you get yours written and recorded, through A&R, marketing etc – the sound will probably have become stale already.
It's better to work to try and find something fresh and to be yourself. It's something that I try and keep in mind all the time when I'm working with artists.
Separately, as an engineer, it's always good to be able to adapt to different situations. Different bands and artists like to work in different ways – it's important to recognise this and not be too set in your ways. Spotting that a band clearly might not be comfortable in one situation and finding a solution that helps them is very important, so they can produce the goods.
Always keep your ears open because you'll end up working with lots of bands you've never meet before they walk through the studio door. Even if just a casual chat while you're miking up the drum kit, try to figure out who they are and what they like or don't like. Good communication skills are important to get repeat bookings.
Do you like to get a demo before working with a band?
Yeah it can be helpful if you can get a few tracks emailed over to get a bit of a listen but very often it doesn't happen. So, this is where you need to think on your feet – try and figure out what kind of sound they are after as you go.
We will always try and get a demo from them or do a bit of research online, Soundcloud or YouTube maybe and see what they have previously recorded and get a feel for their sound.
If you could only take one thing from the studio to a desert island what would it be?
Hmmmmm……Probably my laptop, it's like my best friend!! In truth they are so powerful nowadays you can do a lot with them. Even for recording things like backing vocals at home (or on a desert island!) can be done with decent laptop.
[openday]
FOLLOW US