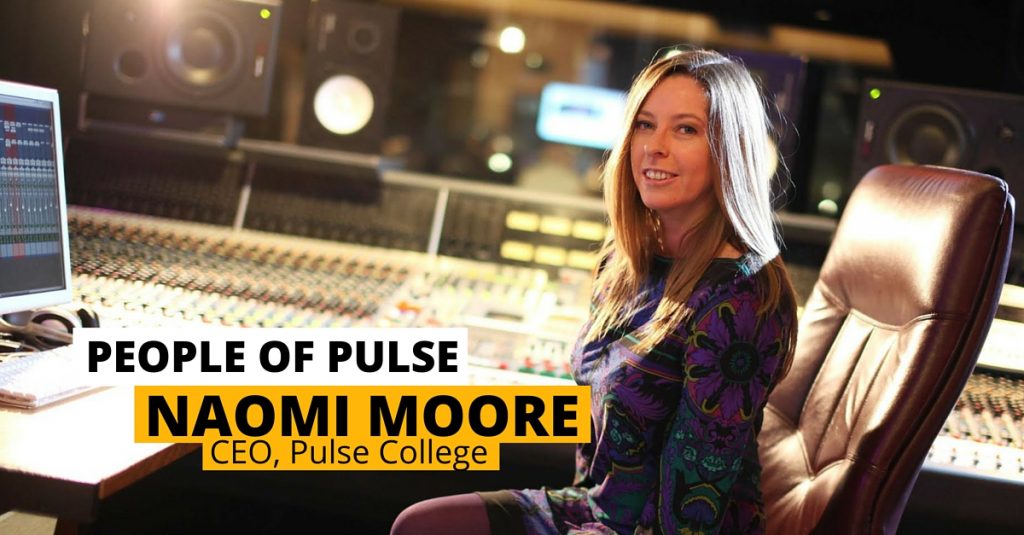 When you talk with Naomi her bright and breezy chat gives the impression that she carries her responsibilities lightly but don't be deceived by her easy style – this woman has had a stellar commercial career, becoming a Director of Pulse Recording Studios (the starting point for Pulse College!) at 21 and a partner in the business at 23. She was a founding Director of Pulse College, and is CEO of two businesses, the other being the iconic Windmill Lane Recording Studios.
Despite her heavy workload, Naomi is happy to talk about how her career evolved and to give some practical tips to students who are interested in working with creative media.
How did you kickstart your career and break into the music and education business?
I had always wanted to work in the music business, especially on the tech side, but there weren't many music technology courses in Dublin around the time when I was originally looking to study. I stumbled across a sound engineering course and as soon as I finished that I was lucky to come across Aidan Alcock and Tony Perry who were running Pulse Recording Studios. They took me under their wing and gave me a gig working in the studio, which was really my first job in audio. I pretty much went straight into being a studio manager from that and loved it, the three of us worked together really well from the very beginning.
At what stage did Pulse College and Windmill Lane Recording Studios come together?
Just as I was starting at Pulse Recording Studio they ran a course in sound engineering as we recognised that there was a gap in the market. No-one was really teaching the latest technologies in audio and music technology as they were emerging, so we made a clear decision to be leaders that field. That was really the beginning of the formation of Pulse College and this ethos has been at the heart of everything we have done ever since.
Around 2009, Windmill Lane Recording Studios, which had relocated to 20 Ringsend Road from it's original location by this time, came up for sale and we saw it as a great opportunity to invest in a world-class brand. It was a natural progression then to split the businesses into two: Pulse College, which focused on the educational aspects of media, and Windmill Lane Recording Studios, to service the world's best recording artists. From the beginning we attracted some great acts including Bryan Adams and 50 Cent and currently we still get the global stars in regularly, like Ed Sheeran, Kodaline and The Script.
At this point there was so much commercial work to do I naturally got drawn into it and I found that I enjoyed that more than being hands-on in the studio. The business side of the two companies is where my focus has been for a long time now, it's very dynamic.
How did the academic aspect of the business grow?
Given our origins as a sound studio and the reputation of Windmill Lane Recording Studios, students were naturally excited to do audio and music technology courses with us so that was a natural fit. We were able to offer great hands-on experience but we could see employers were interested in qualifications too so we made sure our courses were accredited. It was really the mix of practical experience, formal qualifications and teaching cutting edge technologies that drew students in, and that's still the case today. The students know, and employers know, that when graduates leave here, they are work-ready.
As the college grew in terms of student numbers and facilities, we were keen to diversify our offerings too. We could see that new creative media, like animation and game design and development, were significant growth areas and would be big employers in the future. So we simply rolled out the same business model that worked for Music Technology and Music Production and that's proven to be a successful move.
We're running a variety of courses now across film production, game design and development and, most recently, animation. Our strap-line says "Leaders in Creative Media Education" and that really is how the business continues to grow.
What's your best advice for students thinking of a career in media?
The one thing I stress for all our students is that they need to put in some research and practical work on the media they are interested in to find out if they like it before they sign up for a course. Google it, do a project yourself at home, try to get some hands-on experience to get a feel for the work. As I always say, just because you like music doesn't mean that you can play an instrument!
With any career in creative media, you have to be passionate about it. There can be a lot of work involved in creating something special, but when you manage to do that there's no better feeling. We have graduates that have won IFTA's, Oscar's and Emmy's and the one thing they have in common is that they love what they do. If you are passionate and work hard, you're over halfway there!
Ready to Check Out Pulse College?
If you want to find out about the creative media courses we teach at Pulse College, check out our wide range of Music Technology, Music Production, Film Production, Gaming and Animation courses on offer.
We've also recently launched an innovative BA (Hons.) Degree in Audio & Music Technology which is the perfect option for those looking to move into music production and technology without having a typical musical background.
Why not come along on an open event to see the facilities and to learn about the courses – you might even bump into Naomi when you arrive!
[openday]
FOLLOW US